May 02, 2019
AR/VR at Apple + FrIDeATe + Pushing Air + Meeting of the Minds + Year End Event + Course Update
It's FrIDeATe!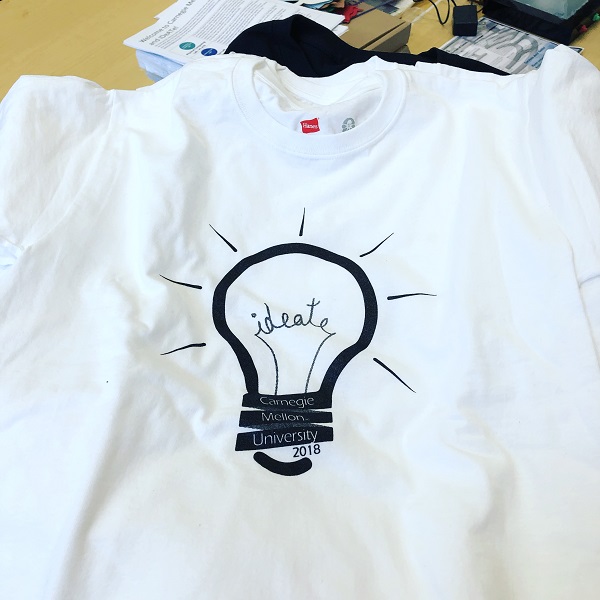 The final FrIDeATe of the year is today, Friday, May 3rd at 4:30 p.m. in the IDeATe Fabrication Lab (HL A5). We'll be giving out the last batch of this year's t-shirt, designed by ARC/IDeATe student Ghalya Alsanea, so if you haven't gotten yours yet, be sure to stop in and grab one! Event info also available at facebook.com/CMUIDeATe.
Tomorrow! Pushing Air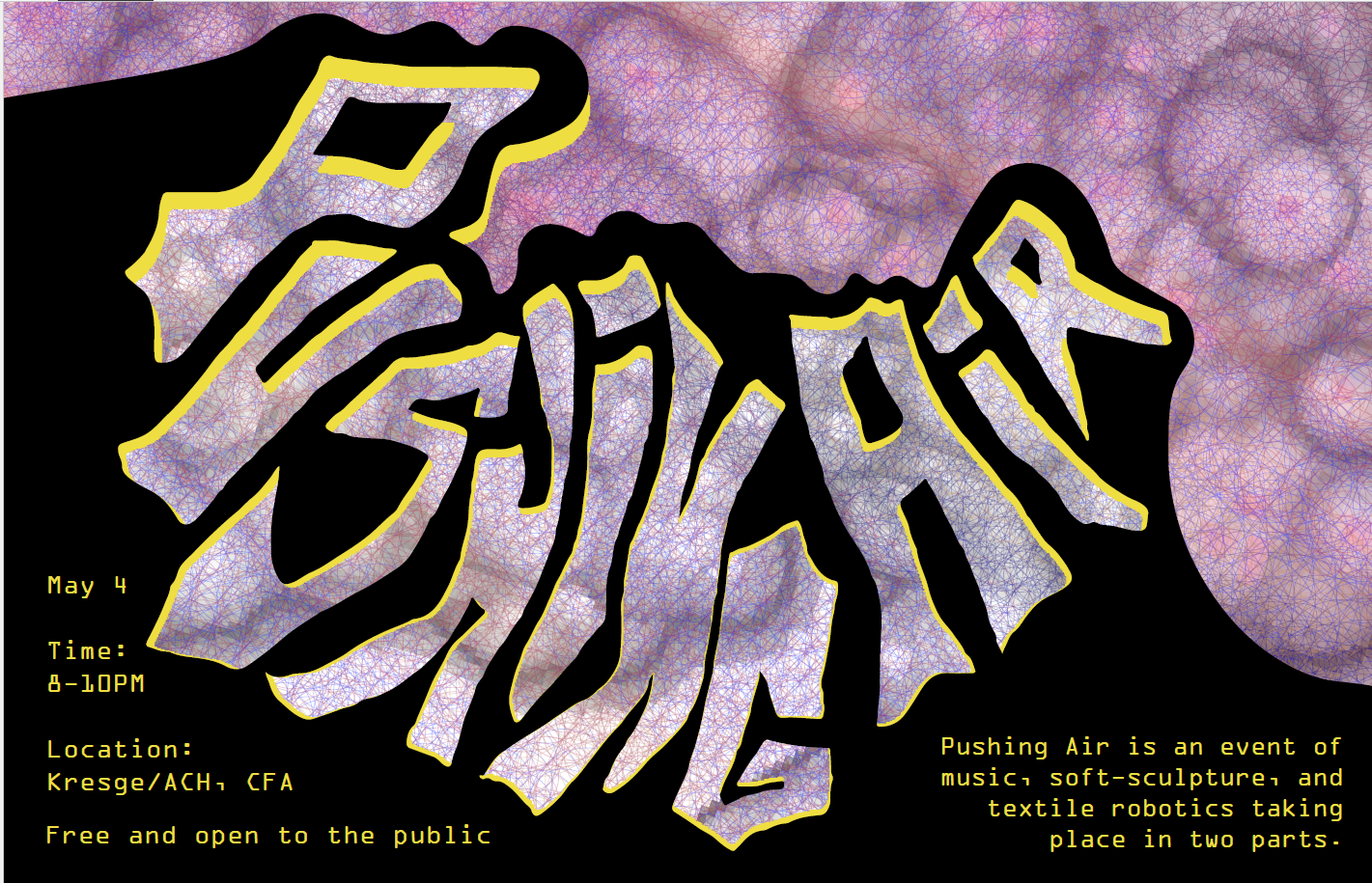 Saturday, May 4th at 8 p.m., the students of the IDeATe classes Inflatables and Soft Sculpture, Kinetic Fabrics, and Exploded Ensemble will present Pushing Air, an evening of music, soft-sculpture, and textile robotics. In Kresge Hall, the musicians of Exploded Ensemble will be joined onstage by robotic performative sculptures designed by the students of Kinetic Fabrics to explore concepts of oscillation, polyrhythm, and complex pattern-making. Later, in Alumni Concert Hall, the musicians of Exploded Ensemble will be surrounded by architectural scale artworks designed by the students of Inflatables and Soft Sculpture to create an immersive space for the audience to explore and interact with. This event is free and open to the public.
IDeATe Showcase at Meeting of the Minds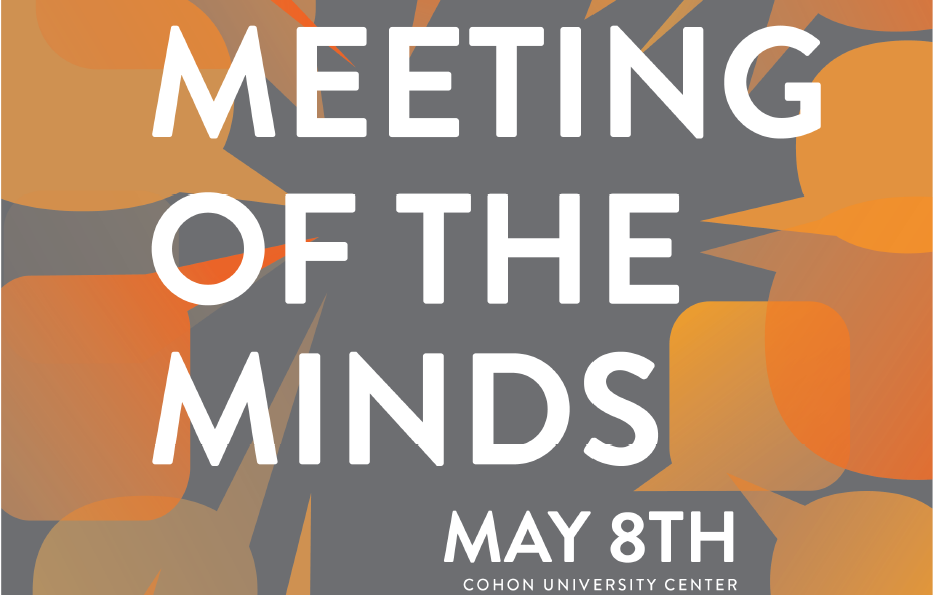 Mark your calendars! IDeATe will have a showcase space at Meeting of the Minds on Wednesday, May 8th! Students from classes like Game Design, Prototyping, and Production, 360 Story and Sound, Responsive Mobile Environments, Inflatables and Soft Sculpture and many more will be displaying the work that they've produced over the spring semester. Come check us out in the Studio Theatre in the Cohon University Center, 12:00-2:00 p.m.
IDeATe Year End Event

As much as we hate to see them leave us, we are so very proud of the the students graduating this year with IDeATe minors. To celebrate, please join us on Wednesday, May 15th, 1:30-3:30 p.m. in the Peace Garden next to Hunt Library. We'll have food from Choolaah and take some time to connect before the rush of Commencement. Event info also available at facebook.com/CMUIDeATe.
AR/VR Prototyping Engineer at Apple
The Technology Investigation Team is currently looking for an interdisciplinary Prototyping Engineer who can help to bridge experience prototyping, electronics prototyping, and experimental design. You will build 3D immersive audiovisual stimuli and contribute to the rapid development of tools for both measuring and assessing the quantitative correlates of an experience. For more information and to apply, visit jobs.apple.com.
Fall 2019 Course Update - 48-558/53-558 Reality Computing
The curriculum of 48-558/53-558 Reality Computing will be shifting slightly in Fall 2019 and will be counted as a Game Design course for students pursuing that minor. If you interested in taking this course and having it count for your Game Design minor, please contact Kelly Delaney to have this noted in your audit.
Fall Research Opportunity: Design Based Learning Research, IoT Smart Documentation, Maker Learning
Multiple positions are open for undergraduate research assistants on an NSF-funded project Smart Spaces for Making: Networked Physical Tools to Support Process Documentation and Learning. This NSF Research Experience for Undergraduates (REU) fellowship is for a part time position (up to 20 hours/week). Candidates are sought for two roles: Design Research (skills: observation + ethnography, co-design, interview, sketching, data collection and management, qualitative research analysis) and Technical Prototype Development (skills: hardware prototyping, fabrication, server-side programming).
Project Details: The Learning Media Design Center is looking for undergraduate research assistants to help design and develop smart documentation tools to support learning practices in creative, maker-based studio environments. They will work with an interdisciplinary team of design researchers, technology developers and learning scientists from CMU's HCII, School of Architecture and Integrated Innovation Institute (III), the University of Pittsburgh's Learning Research and Development Center (LRDC) and the Children's Museum. Students will participate in design research and technology development activities working with project site partners including Quaker Valley High School, CMU's IDeATe program, and AlphaLab Gear's Startable youth program at the Community College of Allegheny County.

Students should have a genuine interest in inclusive education and the design of learning technologies.

The prospective candidate will work with project team members to:
Design Research: synthesize generative design research, facilitate visioning activities, and develop concepts and iterative prototypes. We are seeking strong skills in communication and interaction design, a background developing excellent user experiences, and a ready set of innovative design inquiry methods—including participatory and usability testing techniques—to understand the problem space and collaboratively refine solutions with the project team and users.
Technical Prototyping: prepare working prototypes of smart systems for deployment to real-world educational spaces. We are seeking strong skills in hardware and software development towards an integrated platform for context-aware documentation tools. Ideal candidates should have also exposure to human-centered design methods and experience in collaboratively developing, testing and refining solutions within an interdisciplinary team.
The Human-Computer Interaction Institute (HCII) faculty mentor and Principal Investigator, Marti Louw, Director of the Learning Media Design Center, will serve as project lead and advisor with co-principal investigator, Daragh Byrne, School of Architecture.
To apply: Upload your Resume and a link to your portfolio to the following Box Folder: http://bit.ly/2zKGsZk. Note: Undergraduate students supported with NSF funds must be citizens or permanent residents of the United States or its possession.