September 05, 2019
IDeATe's Birthday + T-Shirt Design Submissions + Fall Research Opportunity + Playtesting Nights + Soros Fellowship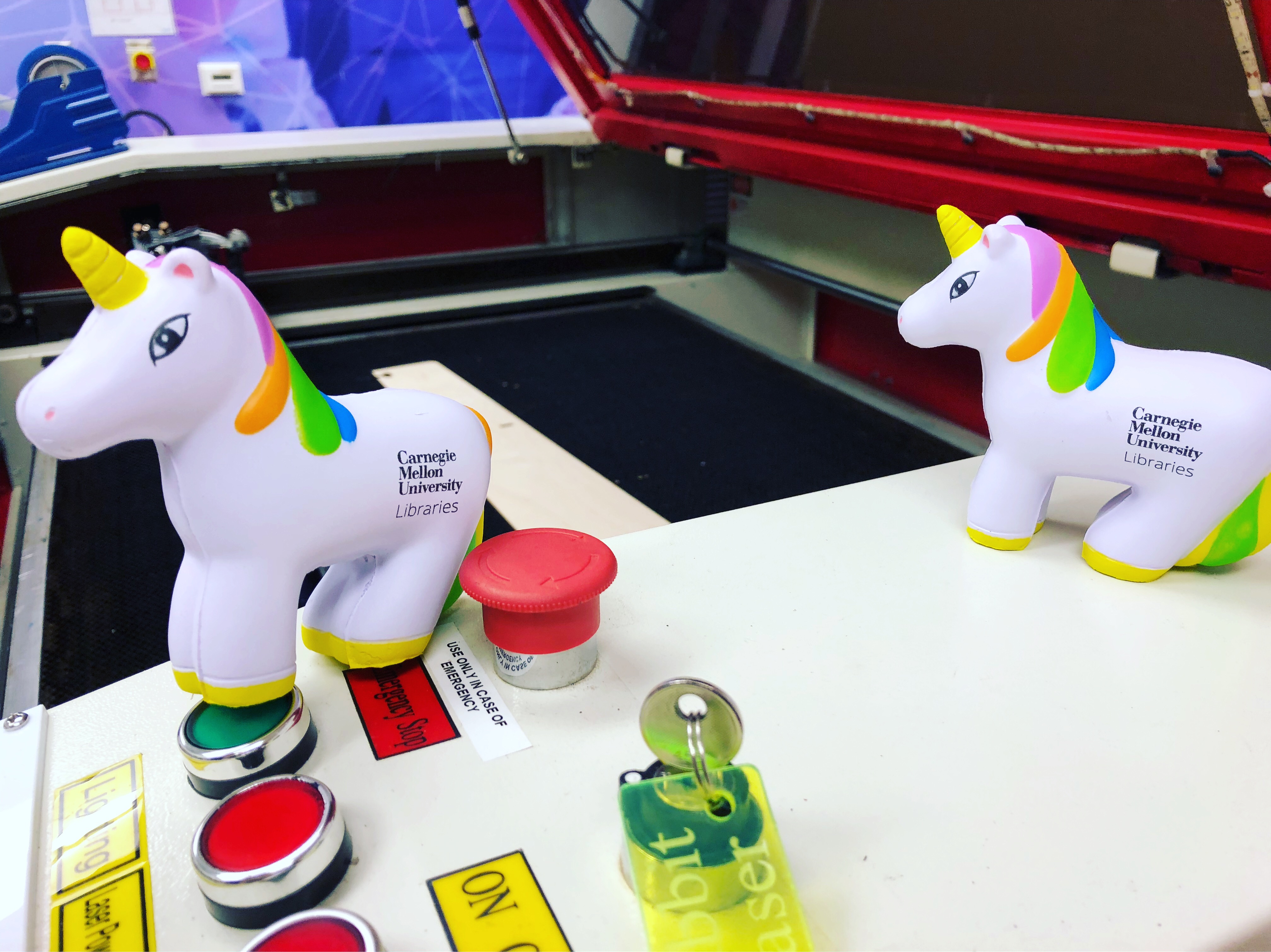 The unicorns of Hunt Library safely operate the IDeATe laser cutters
IDeATe's 5th Birthday Party + 2019-20 T-Shirt Design Challenge
IDeATe is 5 years old! To celebrate, we're having a special birthday celebration for our first FrIDeATe of the year on September 13th at 4:30 p.m. in Studio A (HL 106B). We'll have food and cake AND we'll be taking a look at YOUR design submissions for this year's IDeATe t-shirt. If you would like to enter a design, please send it to help@ideate.cmu.edu by September 12th! Event info also available on facebook.com/CMUIDeATe.
Fall Research Opportunity: Design-Based Learning, IoT Smart Documentation, Maker Learning
Multiple positions are open for undergraduate research assistants on an NSF-funded project Smart Spaces for Making: Networked Physical Tools to Support Process Documentation and Learning. This NSF Research Experience for Undergraduates (REU) fellowship is for a part time position (up to 15 hours/week).
Candidates are sought for three roles:
Design Research (skills: observation + ethnography, co-design, interview, sketching, data collection and management, qualitative research analysis)
Technical Prototype Development (skills: hardware prototyping, fabrication, server-side programming)
Physical Computing Lab Assistant (skills: hardware and electronics, inventory management, database management)
Project Details:
The Learning Media Design Center is looking for undergraduate research assistants to help design and develop smart documentation tools to support learning practices in creative, maker-based studio environments. They will work with an interdisciplinary team of design researchers, technology developers and learning scientists from CMU's HCII, School of Architecture and Integrated Innovation Institute (III), the University of Pittsburgh's Learning Research and Development Center (LRDC) and the Children's Museum. Students will participate in design research and technology development activities working with project site partners including Quaker Valley High School, CMU's IDeATe program, and AlphaLab Gear's Startable youth program at the Community College of Allegheny County.
Students should have a genuine interest in inclusive education and the design of learning technologies.
The prospective candidate will work with project team members to: 
Design Research: synthesize generative design research, analyzing qualitative research, facilitate visioning activities to inform iterative prototyping. We are seeking strong skills in communication and interaction design, experience with qualitative research methods, and in developing excellent user experiences, and skills with synthesizing and modeling research findings and insights to understand the problem space and collaboratively refine solutions with the project team and users.
Technical Prototyping: prepare working prototypes of smart IoT prototypes for deployment to three educational co-design partners. We are seeking strong skills in hardware and software (Arduino, Raspi) development towards an integrated platform for context-aware documentation tools. Ideal candidates should have also exposure to human-centered design methods and experience in collaboratively developing, testing and refining solutions within an interdisciplinary team.
Physical Computing Lab Assistant: work closely with a physical computing lab faculty to study, understand and deploy a tool that integrates NFC tags with inventory management and other tools to create in-situ, open, community documentation practices to improve student learning on campus. Ideal candidates should have also exposure to electronics and hardware laboratories and experience in collaboratively developing, testing and refining solutions within an interdisciplinary team.
The Human-Computer Interaction Institute (HCII) faculty mentor and Principal Investigator, Marti Louw, Director of the Learning Media Design Center, will serve as project lead and advisor with co-principal investigator, Daragh Byrne, School of Architecture.
To apply:
Upload your Resume and a link to your portfolio to the following Box Folder: http://bit.ly/2zKGsZk .
Note: Undergraduate students supported with NSF funds must be citizens or permanent residents of the United States or its possession.
Fashion Technology Innovators Wanted for Technovation 2019
Pittsburgh Fashion Week is seeking fashion technology innovators for Technovation 2019. They are looking for brands, designers, engineers, and artists from across the Pittsburgh region to showcase their tech-savvy fashion designs, wearable technology, unique manufacturing methods, sustainable textiles, software applications, and much more. Deadline to apply is September 15th, 2019. There is no fee to exhibit. Apply now or contact pghfw@downtowncdc.org for more information.
Playtesting Nights!
If you are working on a game for a class or would like to help a student who is developing a game, stop by Playtesting Night! They're held every Tuesday, 4:30 - 7:30 p.m. in IDeATe Studio B.
Analog Pleasures
Friday, September 6th, 7-11 p.m., during the Unblurred gallery crawl at 205 North Evaline Street. A special show featuring videogames that transcend standard hardware. Have you ever played a VHS, an LED strip, or an oscilloscope? Have you ever used your sense of smell in a videogame or strapped a joystick on your crotch? This may be your only chance!
TQ Live! @ The Warhol
September 7th, 8:00 p.m. at the Andy Warhol Museum, TQ Live! presents a queer evening of dazzling performance, dance, poetry, comedy, resplendent fantasies, music, and more. This fifth annual performance series features artists and performers from the many LGBTQIA communities in the Pittsburgh region. This program is produced by School of Art professors Scott Andrew and Suzie Silver and Joseph Hall. More info available at warhol.org.
Soros Fellowship Info Session
Yulian Ramos, Deputy Director of the Soros Fellowship, will host an information session on Tuesday, September 17th at 4:30 p.m. in Gates-Hillman 4215. The Soros Fellowship is a graduate school fellowhsip for immigrants and the children of immigrants that awards up to $90,000!