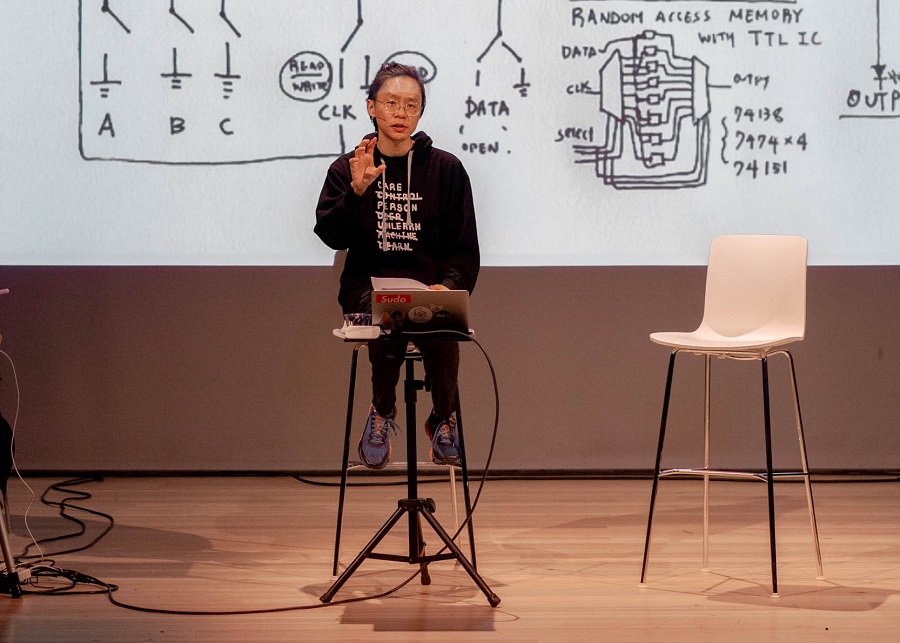 November 24, 2020
Taeyoon Choi Steiner Lecture + IDeATe Course Info Session Recap
Taeyoon Choi Steiner Lecture
Please join the Frank-Ratchye STUDIO for Creative Inquiry and faculty hosts Robert Zacharias and Heidi Wiren Bartlett for an evening with Taeyoon Choi on Monday, November 30, 6:30-7:30 pm EST. Please RSVP to receive Zoom link.
Taeyoon Choi is an artist and educator based in Seoul and New York. He explores the poetics in science, technology, society, and human relations. He works with computer programming, drawing, and writing, oftentimes in collaboration with fellow artists, experts, and community members. He believes in the intersectionalities of art, activism, and education and works on disability rights, environmental justice, and anti-racism. He co-founded School for Poetic Computation in 2013 where he continues to organize and teach experimental classes. Through his diverse practices, he seeks a sense of gentleness, magnanimity, justice, solidarity, and intellectual kinship.
Photo by Minu Han, 2018

IDeATe Course Info Session Recording Available
Thank you to all who attended our S21 Course Info Session yesterday! If you were unable to join us, we have recorded the session and it is available on Box. If you have questions about IDeATe courses or minors, please reach out to help@ideate.cmu.edu.

Soft Tech: Visiting Artist
Please join the Intro to Textile Media class in welcoming an upcoming guest speaker!
Rosa Sung Ji Chang 장성지 is a Korean-born visual artist, natural indigo dyer, and storyteller. She takes her inspirations from reincarnation, a cultural pillar in Korea, and her firm belief of pursuing a non-wasteful lifestyle. On Tuesday, December 1 at 1:30 pm, Rosa Sung Ji Chang will speak about traditional Korean indigo dye methods, her creative practice, and growing a community dye garden in Baltimore, MD.
All are welcome to the two events. RSVP is required. The visitors were supported in part by funding from the Frank-Ratchye Fund for Art @ the Frontier and the Steiner Invitation Series.

ICYMI: Soft Tech: Open Hack Hours
Do you have ideas or projects you want to do, but don't know how?
Would you like to casually spend time with professors talking about ideas?
Are you curious about robotics and/or textiles and/or soft robotics?
Do you want to experiment with interesting materials and see what you might invent?
Come to our Open Hack Hours! 
 
Everyone is welcome to join Prof. Chris Atkenson (RI) and Prof. Olivia Robinson (IDeATe) for Open Hack Hours on Wednesday evenings 7-9pm on Zoom.  
 
Zoomline: http://bit.ly/SoftTechOH
Password: KnockKnock