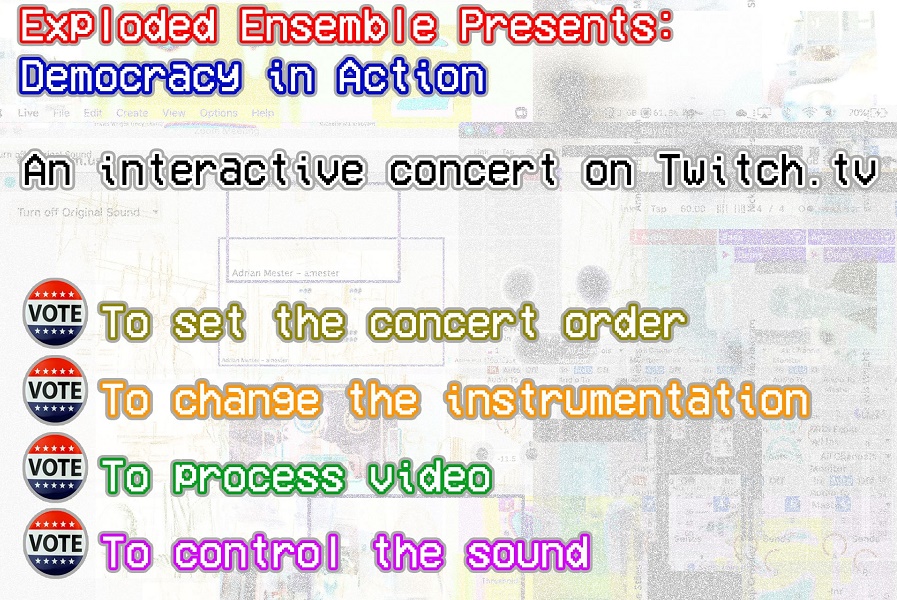 October 29, 2020
Democracy in Action Concert + CMoA Podcast: Participants Needed!
Explode Ensemble Presents: Democracy in Action
It's an experiment in sonic democracy on the eve of the election! Exploded Ensemble, the roving band of musicians responsible for bringing aural weirdness to the School of Music, IDeATe, and your virtual classroom, will be performing on Twitch.tv on Sunday, November 1. This won't be just any performance, though. The audience will control aspects of the performance by sending messages in the chat that will automatically change the music and visuals. You can also find information about other election-related creations from faculty and students on cmu.edu.
Blizzard Entertainment Talk
Join GCS and guest speaker Sarah Chen [they/them] from Blizzard Entertainment for a virtual talk on 10/30 at 7 PM ET on Zoom (https://tinyurl.com/f20blizzard). Come to learn more about the differences between a regular CS industry job and a job in the games industry, ways to better prepare for a job in the games industry, and what life is like at Blizzard! We've added CMU Authentication to make our Zoom call safe, so please make sure you login with your CMU Zoom credentials. If you join early enough, you may be placed in a waiting room, so please be sure to rejoin closer to the event start time. RSVP to our Facebook event here: https://www.facebook.com/events/351744102772100/
Soft Tech: Open Hack Hours
Do you have ideas or projects you want to do, but don't know how?
Would you like to casually spend time with professors talking about ideas?
Are you curious about robotics and/or textiles and/or soft robotics?
Do you want to experiment with interesting materials and see what you might invent?
Come to our Open Hack Hours! 
 
Everyone is welcome to join Prof. Chris Atkenson (RI) and Prof. Olivia Robinson (IDeATe) for Open Hack Hours on Wednesday evenings 7-9pm on Zoom.  
 
Zoomline: http://bit.ly/SoftTechOH
Password: KnockKnock
Carnegie Museum of Art Podcast: Participants Wanted!
The Carnegie Museum of Art is launching a podcast about photography, surveillance, and artificial intelligence. Your participation is wanted! Add your thoughts and experiences to this questionnaire and your voice could be featured on the show!
Santa Monica Studio Design Info Session
Santa Monica Studio, the video game development team for PlayStation, will be holding an info session for students interested in careers in Design.
The design info session will be Monday, November 2 at 4:30 pm ET/1:30 pm PT.
Webex: https://playstation.webex.com/playstation/j.php?MTID=m48757684fca59a7e3c81a461ad4d43e6
Meeting number (access code): 131 764 4673
Meeting password: Design112!
ICYMI: Get Out the Vote: Empowering the Women's Vote
Carnegie Mellon Libraries are excited to join the Miller Institute for Contemporary Art in celebrating "GET OUT THE VOTE: Empowering the Women's Vote." In partnership with AIGA and Vote411, this exhibit invites AIGA members to submit nonpartisan posters to commemorate women's voting rights. Don't miss the MIller ICA Gallery's Pittsburgh edition of this exhibit on-view until November 15th.
Pictured above: IDeATe Adjunct Professor and Libraries Designer Heidi Wiren Bartlett installs posters at the entrance of Hunt Library. The posters are available for free and can be downloaded, printed, and posted anywhere!
ICYMI: Starcraft II/AI Study: Participants Needed!
Starcraft II players! Want to play Starcraft as part of a research study? If so, you are invited to participate in an experiment that will provide you with a chance to collaborate with an AI while playing Starcraft II. We will be running these experiments beginning the week of October 26.
The experiment will take no more than 60 minutes and you will be compensated with a $10 Amazon gift card for your participation.
Participants in the study will play Starcraft II guided by an AI designed to provide strategy suggestions to players. Participants will install Starcraft II and an additional software tool to guide players throughout the experiment. Participants will take pre- and post-experiment questionnaire and upload their game play data collected during the experiment on a cloud repository. The experiment will take place on the participants' local computer and requires a Windows operating system. (Recommended specs below.)
If you are interested in participating, please sign up at the following link: https://pennstate.qualtrics.com/jfe/form/SV_br75gQbkejSxY2h
If you have any questions, you can reach out to Nicolas Soria Zurita at nicosoria@psu.edu with the subject line "Starcraft Experiment Registration".
Recommended computer specs:
Operating System: Windows® 10 64-bit
Processor: Intel® Core™ i5 or AMD FX Series Processor or better
Graphics: NVIDIA® GeForce® GTX 650 or AMD Radeon™ HD 7790 or better
RAM: 4GB