September 10, 2020
Info Sessions for Game Creation Society and Soft Technologies + CaPS Resources
Game Creation Society Info Session
Hey, you - yes, you! Are you a cool person interested in creating games? Want to learn more about and get involved with the games industry? How about hang out with a bunch of other cool people like yourself who also love video games? Then come to the Game Creation Society's Info Session on Friday, Sep. 11th at 6 PM EST on the GCS Discord at http://bit.ly/GCSDiscord!
Come to learn how to get involved in game-making, as well as to make new friends with others interested! All skills and skill levels are welcome, whether you're a beginner or expert, artist, musician, programmer, writer, designer, producer, human, alien, etc. Hope to see you there!

Soft Technologies Info Session
We are kicking off our Fall 2020 FrIDeATes next Friday, September 18 at 4 pm with an info session for the new IDeATe area in Soft Technologies. FrIDeATes are open to all so please be sure to share this info with your fellow students who may be interested in this minor! If you are unable to make FrIDeATe, we will be holding an additional info session on September 23. Zoom details for both will be posted on our Events page.
Until further notice, all FrIDeATes will be BYOBurritos.
CaPS Resources
As you navigate this semester and the semesters ahead, remember that Counseling and Psychological Services has many programs and resources available to help. They will be running weekly support groups for all of the facets of our community, including groups dedicated to Black women, Master's students, Ph.D. students, undergraduate students. You can also participate in clinics on anxiety, embracing your body, and self-compassion or a drop-in group on coping with home and family or coping with insomnia. Visit cmu.edu/counseling to explore all of the resources available to you.
ICYMI: IDeATe Laser Cutter Info
While the IDeATe laser cutters will remain closed to general community use this fall, IDeATe has partnered with TechSpark to provide laser cutter access to interested IDeATe students. 24-210 Special Topics: Maker Series: Inventive Projects is a variable-unit pass/fail mini course offered in both Mini-1 and Mini-2. Students who enroll in 24-210 for one (1) unit are entitled to one hour per week of reserved laser cutter time at the TechSpark facilities, as well as unlimited walk-in time as capacity allows.
IDeATe instructors and TAs who need to cut one-off projects should continue to make appointments with IDeATe via help@ideate.cmu.edu.
For the latest updates on IDeATe operations during the Fall 2020 hybrid semester, stop by resources.ideate.cmu.edu.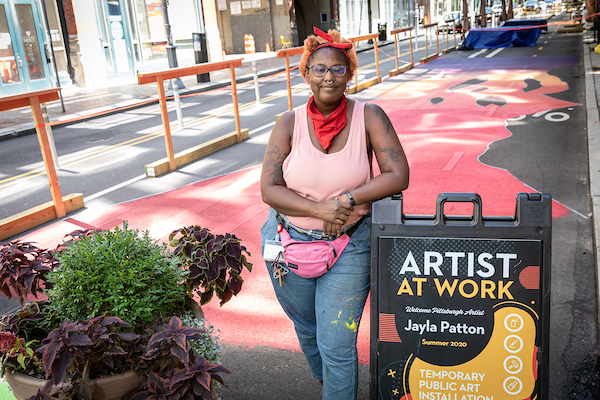 Image courtesy of Pittsburgh Downtown Partnership
ICYMI: IDeATe Instructor Beautifies Downtown Pittsburgh
If you've taken the IDeATe courses 62-478 digiTOOL or 99-359 IDeATe: 3D Modeling and 3D Printing in the last year or so, then you've gotten to know Jayla Patton and the enthusiasm and creative energy that she brings to learning. Patton was recently commissioned to create a street mural on Penn Avenue in Downtown Pittsburgh as part of an initiative from the Pittsburgh Downtown Partnership. Take a moment to read more about the project on nextpittsburgh.com and if you're in Pittsburgh, stop by to see the mural on display through November 2.