October 07, 2021
Natural Dye Workshop + PGH Lab 7.0
Tour IDeATe During Family Weekend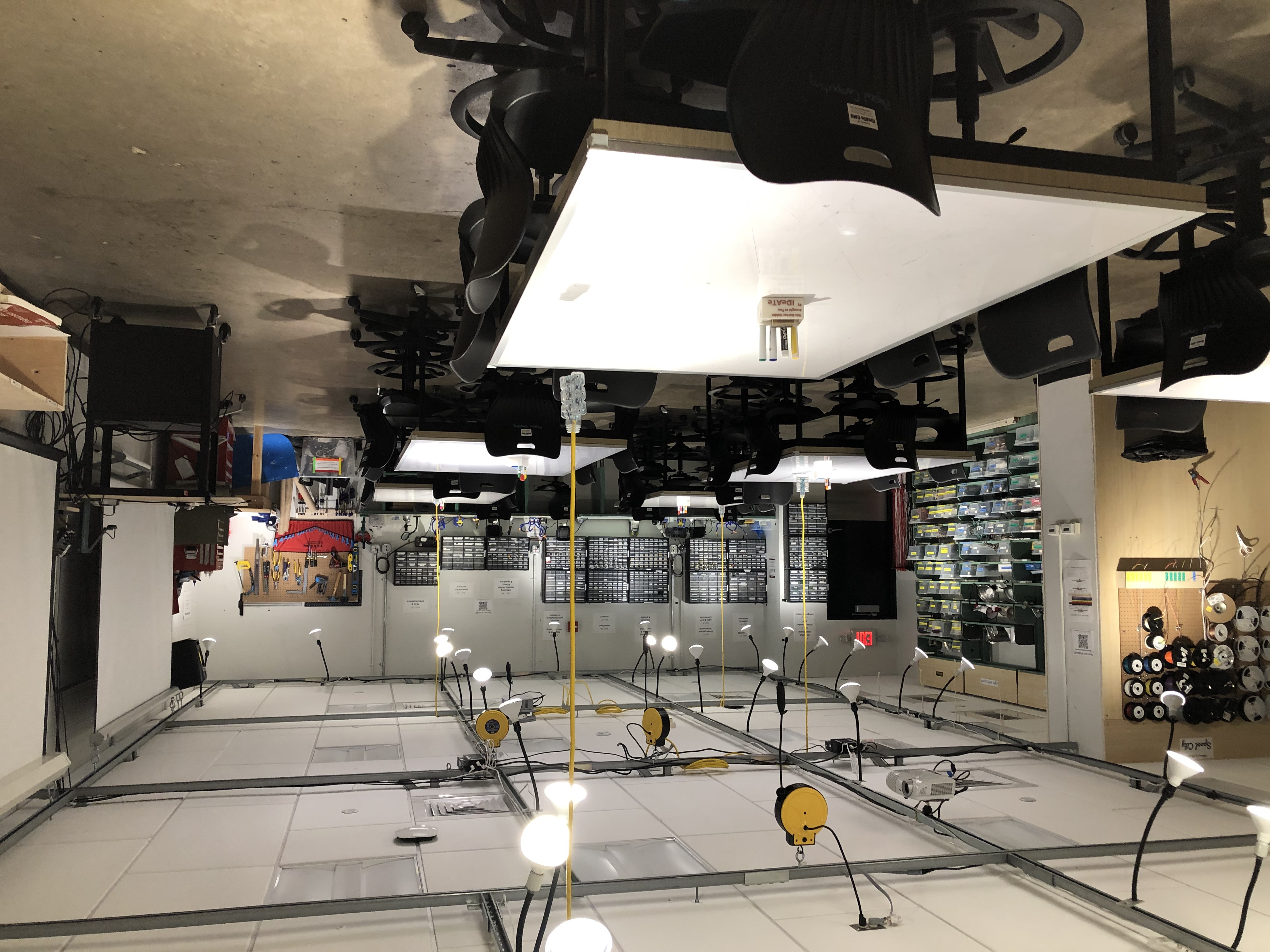 If you are still relatively new to campus (and many of you are this year), you might not have had a chance to visit the IDeATe facilities in Hunt Library. This Saturday, October 9, at 1 pm, join IDeATe Associate Dean Susan Finger for a Family Weekend tour of the IDeATe Labs and get a glimpse of all that we have to offer. Information on Family Weekend is available at cmu.edu and on the CMU Events app.
Natural Dye Workshop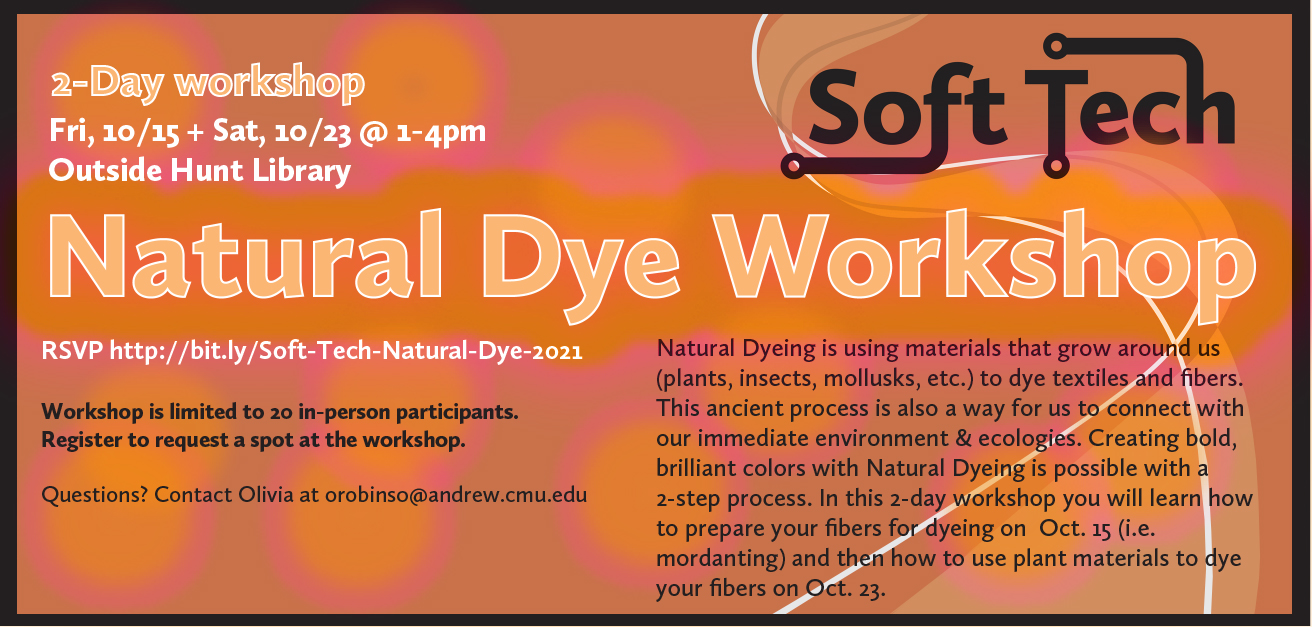 Join the Soft Technologies faculty for a two-day Natural Dye Workshop on October 15 and 23. This is an in-person, outdoors, masked event.
Natural dyeing is using materials that grow around us (plants, insects, mollusks, etc) to dye textiles and fibers. This ancient process is also a way for us to connect with our immediate environment and ecologies. Creating bold, brilliant colors with natural dyeing is possible with a two-step process. In this two-day workshop, you will learn how to prepare your fibers for dyeing on October 15 and then how to use plant materials to dye your fibers on October 23.
We will provide fabrics for dyeing, but you can also bring one item to dye. Your item should be small, such as: a knit hat, scarf, swatches of fabric, skein of yarn, etc. Natural dyeing works best on natural protein fibers. If you bring an item, it needs to be made of animal fibers, such as: wool, alpaca, silk, cashmere, angora, etc. (Thrift stores often have lovely, old sweaters made of such materials.)
Workshop is limited to 20 in-person participants so be sure to register! Questions can go to Olivia Robinson.
Join the PGH Lab 7.0 Cohort
Have you wanted to test your startup's product or solution with the City of Pittsburgh to help promote civic innovation? Help us make the city a better place for all! Our PGH Lab 7.0 Cohort application is now live.
PGH Lab connects local startup companies with the City of Pittsburgh and local authorities to test new products and services in a real world environment for up to six months. In the program, startups are encouraged to test, gain valuable market feedback, and iterate. In turn, the program gives local government the opportunity to explore new ways to use technology and services to make government more efficient, transparent, sustainable, and inclusive.
Applications will close November 1.
ICYMI: User Experience Association Coffee Chats
Are you interested in learning more about Human-Computer Interaction at CMU? The HCII User Experience Association (UXA) is launching a semester-long coffee chat program, open to students of all majors! The UXA is a student or committed to cultivating a community among undergraduate HCII students. These chats are an open space for you to speak with HCII undergraduates on the college experience, getting involved with the Human-Computer Interaction Institute, career advice, creating your first portfolio, or anything else. Sign up today!
ICYMI: Fall 2021 Research Opportunity
Multiple positions in Design Research, Web Designer, Technical Prototype Development, and Physical Computing are open for undergraduate research assistants on an NSF-funded project, Smart Spaces for Making: Networked Physical Tools to Support Process Documentation and Learning. This NSF Research Experience for Undergraduates (REU) fellowship is for a part-time position (up to 12 hours/week).
Project Details: The Learning Media Design Center is looking for undergraduate research assistants to help design and develop smart documentation tools to support learning practices in creative, maker-based studio environments in IDeATe, focusing on Creative Physical Computing, and on a Self-Directed Experiential Learning curriculum with Quaker Valley High School. They will work with an interdisciplinary team of educators, design researchers, technology developers, learning scientists and the co-design communities involved. Students should have a genuine interest in inclusive education and the design of learning technologies.
For more information, view the position details here. Questions may go to Marti Louw.
ICYMI: Add Your Profile to the IDeATe Student Directory
The best feature of IDeATe is our student community. Being able to see collaboration happen live and in-person on campus this past week has been so invigorating! We love to show off how our students come from so many different fields of study and you can help us to do that by joining our student directory page. If you would like to add some info about yourself, please submit that here and then we can brag about you to all of our friends. (Psst! We also have an alumni page!)