September 08, 2021
Yadegar Asisi Virtual Talk + GCS Pitch Fair + Co-Op Opportunity
Yadegar-Asisi | The Power of Perspective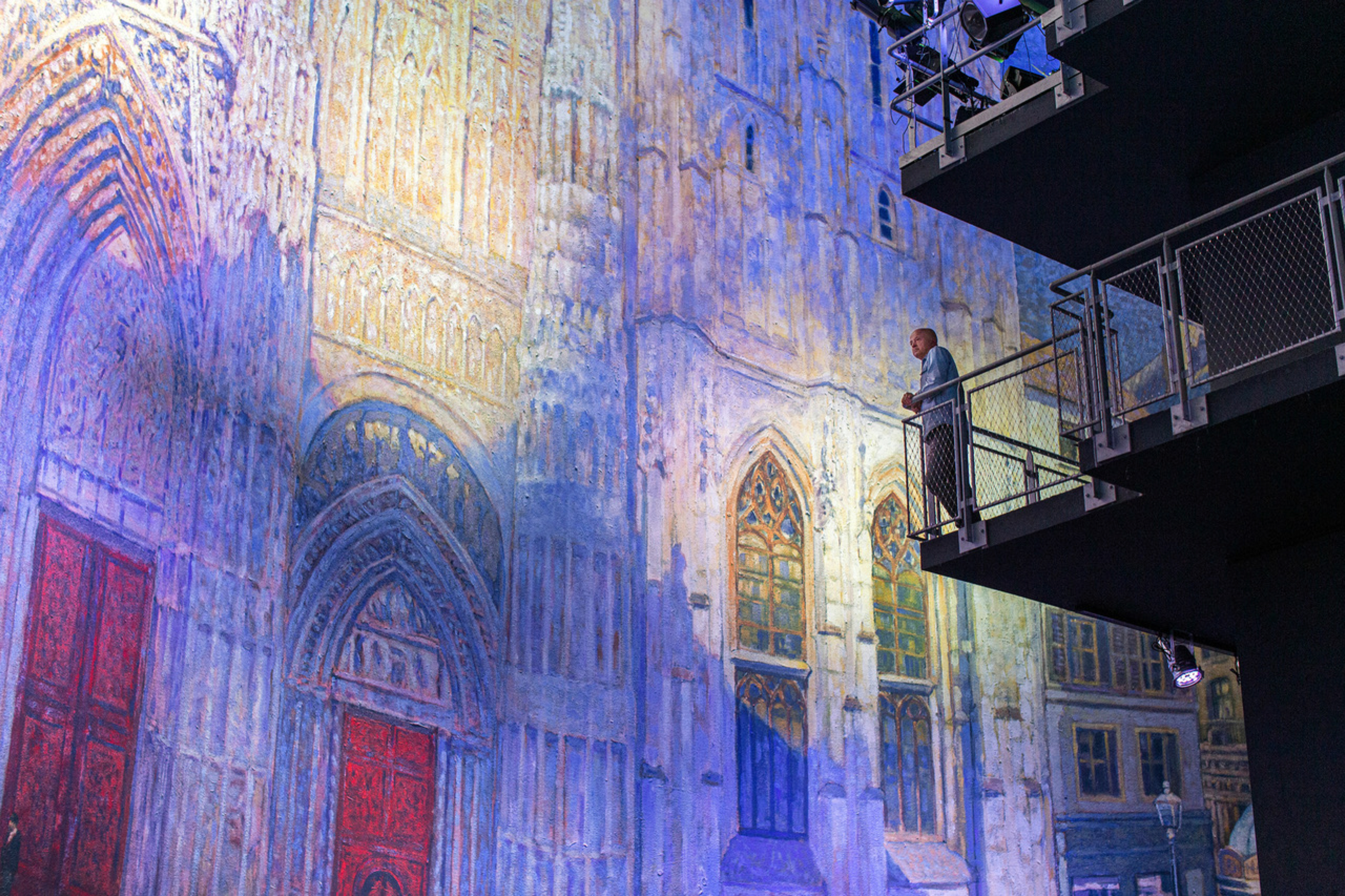 September 9, 2021 |  9 – 11am EDT
Free and Open to the Public 
Register here

Join moderators Johannes DeYoung (Carnegie Mellon University) and Kay Meseberg (ARTE) for a conversation with Yadegar Asisi, internationally recognized architect and panorama artist. Asisi (born April 8, 1955 in Vienna) is known for creating some of the largest 360° panoramas in the world, measuring up to 32 meters high and up to 110 meters in circumference. Asisi's panoramic installations are known world-wide including prominent displays in Leipzig, Dresden, Berlin, Rouen, and New York. Following his installations LEIPZIG 1813 and DRESDEN 1945, his latest project, NEW YORK 9/11, is the third in Asisi's series of anti-war projects, with a special focus on present-day conflicts.
Asisi studied architecture at TU Dresden (1973 to 1978). The son of a Persian refugee, he left the GDR for Iran in 1978, where he spent almost a year during the revolution. He returned to Germany in 1979 where he practices today. Given his interest in the creation of illusionist spaces, Asisi turned his attention to spatial installations that explore techniques of anamorphosis and panorama.

Please join us for a conversation with the artist, in which we discuss his prolific career, his monumental works, and the power of perspective to shape cultural experience.
GCS Pitch Fair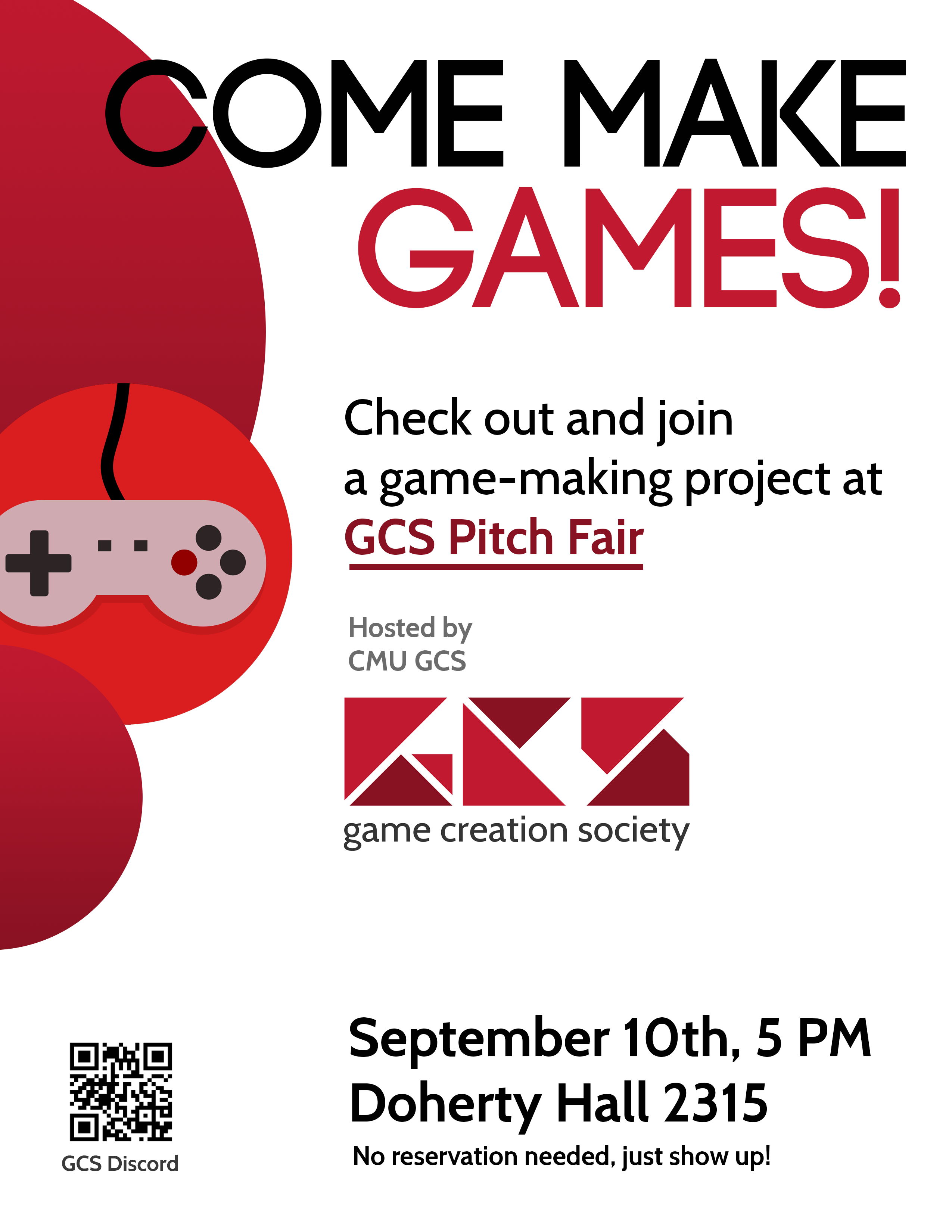 On September 10th, 5 PM EST at Doherty Hall 2315, the Game Creation Society will be holding the Pitch Fair. Come and learn about the awesome games people want to make, and join a team to make it happen!  
No RSVP is needed, just show up! We will be handing out stickers and other swag :)
GCS Discord: http://bit.ly/GCSDiscord
Mailing list: game-creation Info Page (cmu.edu)
We hope to see you there!
Note: The picture above was taken pre-COVID
Caterpillar Co-op: Art and Animation Talent Needed
Caterpillar is accepting applications for their Autonomy Simulator Engineering Co-op. In this job assignment you will work with Caterpillar engineers to develop photo realistic environments from the construction and mining industries to use in support of autonomy simulation tools.  We are looking for students with the following skillsets:
Solid understanding of art and animation pipelines
Familiarity with game systems and the game development process
Rendering and post-effects experience
Understanding of rigging and animation
Experience in physics simulations
Shader development experience
High level artistic skills - proportion, color, composition
Creative mindset and ability to overcome technical challenges
Experience in digital art content creation - high and low-poly modeling, unwrapping, baking, texturing, level art, etc
Knowledge of high-end coding languages (C++, python)
Unreal engine experience desired
Co-Op Program Qualifications:
Must be enrolled full time at a 2-year or 4-year accredited university/college in an Engineering, Engineering Technology, or Computer Science Degree Program
Minimum 3.0/4.0 Cumulative Grade Point Average (no rounding) at current institution​
This is a part-time, temporary position. Remote location work structure is supported in this role.
If you're interested, please apply at this location.  Please note, this job opening is a generic opening used for all Engineering Co-op's. The specific focus you will have is what is listed above.

Autonomy at Caterpillar
The following links are to public information about Caterpillar and our Autonomy products.  In this role you will be at the forefront of not only continuing to deliver success stories like those below in the Mining industry, but also new successes in the Construction industry.
We look forward to the future opportunity of welcoming you to Team Caterpillar.
Caterpillar at CES
CAT Autonomous Mining Trucks – Key Stats 
CAT MineStar Playlist
Caterpillar's Mining Automation Journey
CAT Semi-Autonomous Dozing (it's not just trucks)
Entrepreneurship Bootcamp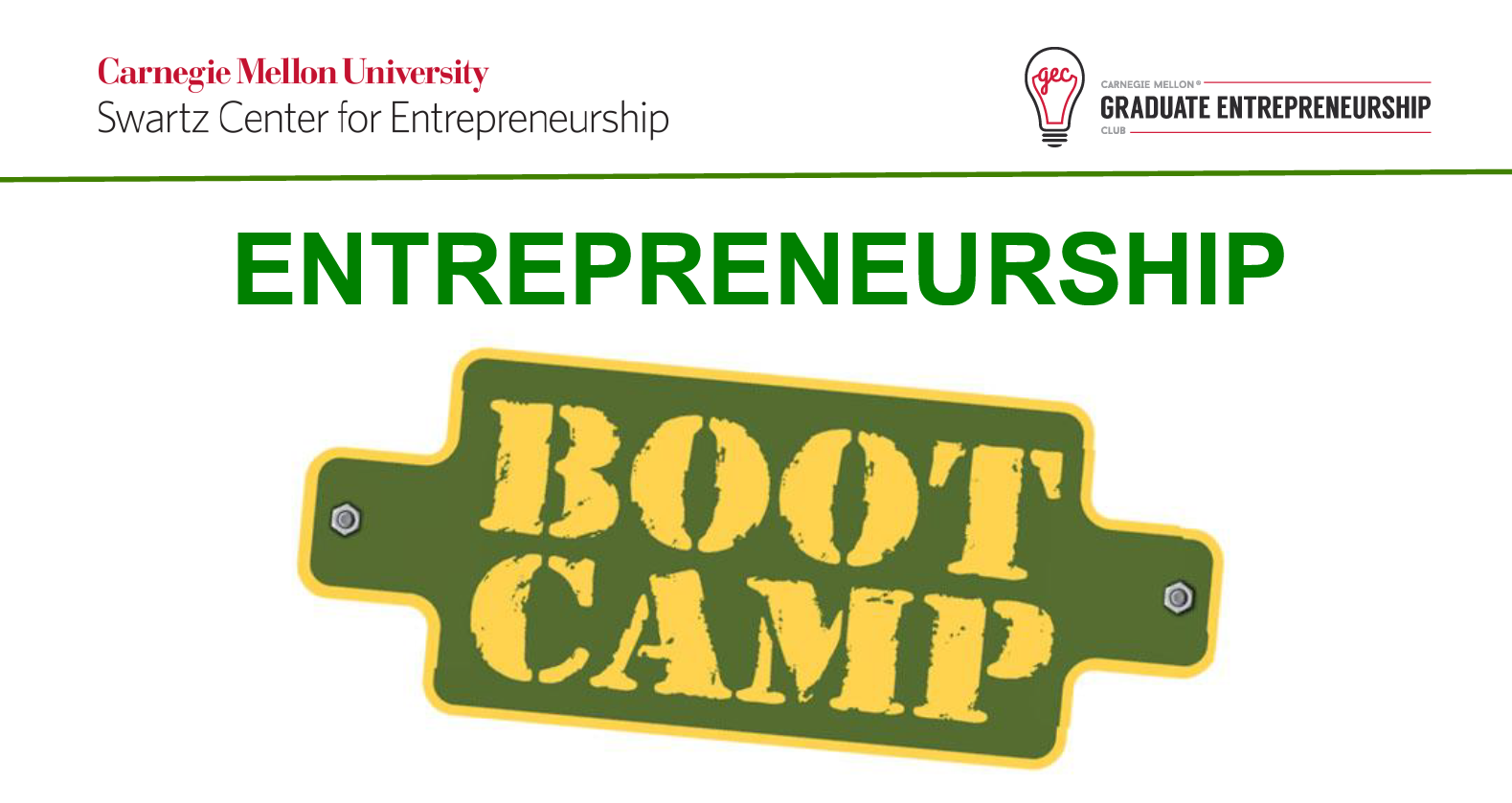 Join the Swartz Center for Entrepreneurship and the Graduate Entrepreneurship Club for this year's Entrepreneurship Bootcamp. This event is open to all Carnegie Mellon students and offers a one-day glimpse into entrepreneurship at the University and in Pittsburgh.
The event will kick off at 1:00pm this Saturday, September 11. You can attend in-person or virtually, just be sure to register!
ICYMI: Add Your Profile to the IDeATe Student Directory
The best feature of IDeATe is our student community. Being able to see collaboration happen live and in-person on campus this past week has been so invigorating! We love to show off how our students come from so many different fields of study and you can help us to do that by joining our student directory page. If you would like to add some info about yourself, please submit that here and then we can brag about you to all of our friends. (Psst! We also have an alumni page!)
Speaking of bragging...
ICYMI: BXA/IDeATe Student Honored
Shambhavi Mishra, a BHA student pursuing an IDeATe minor in Sonic Arts, was recently awarded the Hedy Lamarr Achievement Award for Emerging Leaders in Entertainment Technology by DEG: The Digital Entertainment Group. The award honors a female college student whose studies in the fields of entertainment and technology have shown exceptional promise. You can read more about the awards and Shambhavi at degonline.org. Congratulations, Shambhavi!
ICYMI: HCII Research/Independent Study Opportunities
Join the Human-Computer Interaction Institute on one of their many research projects! HCI's Independent Study site lists the opportunities available to undergraduate students on projects like P3G - Player Programmed Partner Games, VR Driving Simulator with Virtual Friends, or Metamaterials for Prosthetic Sockets.