October 25, 2022
Spring 2023 IDeATe Courses + Animation at Duolingo
Spring 2023 IDeATe Courses
Shake the autumn leaves out of your clothes and start planning for spring! The Schedule of Classes is now live, which means you can start building your schedule. A handy list of IDeATe courses is available for you at ideate.cmu.edu > IDeATe Courses > This Semester's IDeATe Courses.
Animation Careers at Duolingo
Clinton Fanelli, Manager of Animated Productions at Duolingo, will hold an open forum to discuss opportunities and work/life culture for animators at Duolingo this Friday, October 28, 9:00-11:00am in CFA 303. Please register in advance! Fanelli is an experienced Creative Producer and Production Manager, with previous roles and production credits at Walt Disney Animation Studios (2018–21), Hallmark Labs (2016–18), Ask the Storybots (TV) and JibJab Studios (2015–16). Following the forum discussion, Fanelli will hold a limited number of 1:1 tabling sessions, available for sign-up on a first come first serve basis at the event.
AI Maker Space Info Sessions
The JP Morgan Chase AI Maker Space (AIMS) is open for business! AIMS is available to all students on the CMU campus and features a variety of high-tech equipment, including robots, drones, smart appliances, cameras, high-performance computers, and VR equipment. Students can use this equipment for class projects or independent research to create intelligent systems using Artificial Intelligence and Machine Learning.
There will be two information sessions in the AIMS (1001 Tepper, across from the Eberly Center) on Wednesday, November 2 and Thursday, November 3, 5-6pm. (Please register in advance!) The info sessions will introduce the equipment available at the AIMS, how to get access to the facility and its equipment, hours of operation, and other pertinent information.
For more information, visit the AIMS website or email ai-makerspace@cmu.edu.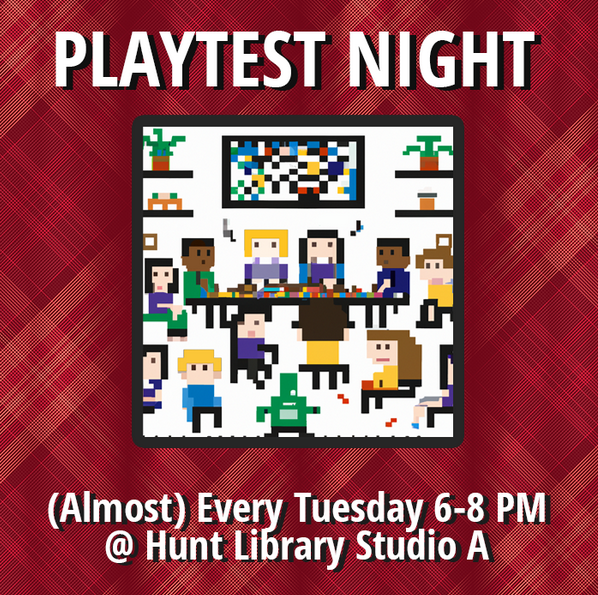 ICYMI: Playtest Night
What is a "Playtest Night?" It's a place where you can test your projects and/or help others test their projects, part of the CMU Playtesting, a collaboration between Entertainment Technology Center, IDeATe, and Human-Computer Interaction. Playtest Night is held (almost) every Tuesday, 6-8 pm in IDeATe Studio A (Hunt Library, first floor). If you're interested in participating as a playtester or if you would like to have your project playtested, contact Weilin Yuan at etc-playtest-coordinator@andrew.cmu.edu. Upcoming Fall 2022 Playtest Nights: October 25, November 1, November 8, November 15, December 6.