On Thursday, May 3rd, at 3:00 p.m. in IDeATe Studio A, ETC/IDeATe professor Ralph Vituccio and Andres Tapia will host a screening of the documentary that their students produced this semester in the English/IDeATe class 76-374 Cuban Interactive Documentary. Over spring break, the students visited Camaguey, Cuba and spent the week documenting the many various cultural aspects of the city ranging from working artists, street life, dance, and music. The students shot, edited, and translated the videos, created the UX/UI Design and all art assets, and programmed the interactive 360 video touch-points. Come see the results of this unique, creative challenge and transformative cultural experience!
---
Beginning in the late April, the Serpentine Room at the Phipps Conservatory and Botanical Garden will feature a sound installation from students in the School of Music IDeATe course Experimental Sound Synthesis. This winding room will be the temporary home for a lush plantation in vibrant array of colors, where one might also spot the forest giants emerging from the earth to join the spectacle. As you walk through the space, you will also find yourself immersed by hundreds of sounds coming from all directions, generated by tiny computers hidden among the foliage to guide, invoke, illuminate, and accompany your experience in this space. For more information, visit essphipps18.wordpress.com or phipps.conservatory.org.
---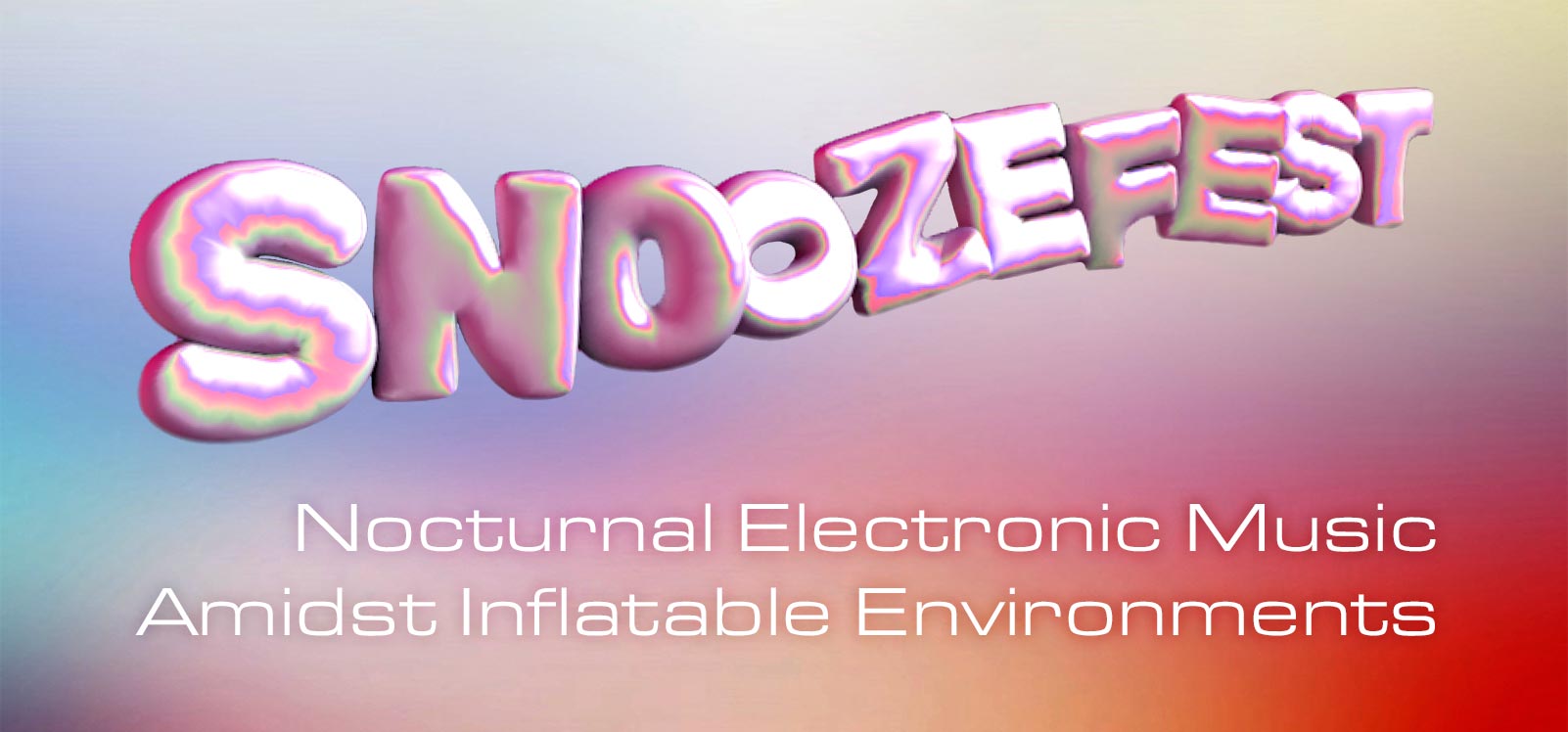 SNOOZEFEST starts at 11:59 p.m. on Saturday, April 28th and runs until 8:00 a.m. on Sunday, April 29th in the College of Fine Arts Alumni Concert Hall.
Sleep amidst giant inflatable artworks in an all-night, subtonal, subconscious experience! Carnegie Mellon's Exploded Ensemble and the CMU Inflatables & Soft Sculpture course take the night shift for a midnight-to-sunrise concert featuring experimental electronic musicians Lesley Flanigan and R. Luke DuBois.
Limited sleeping spaces! BYOSB (Bring Your Own Sleeping Bag) $10 tickets required for sleeping spaces. Reserve here No tickets required for sitting/standing room. Follow @creativeinquiry for ticket information
SNOOZEFEST features subconscious electronic music by the CMU Exploded Ensemble, including special guests Lesley Flanigan and R. Luke DuBois, and performances by student composers Sara Adkins, Stone Butler, Jonathan Cavell, Ryan Flint, Brooke Ley, Steven MacDonald, Alexander Panos, Travis Schwartz, Valerie Senavsky, Alexander Woskob, and Jeena Yin.
SNOOZEFEST is performed amidst inflatable environments and sculptural forms created by the Inflatables & Soft Sculpture course, featuring constructions by Roberto Andaya, Gabriel Bamforth, Ema Furusho, Patrick Gao, John Hewitt, Ankita Jha, Rachel Kim, Sun Min Kim, Elijah King, Tatyana Mustakos, Miranda Miller, Denise Nguyen, David Perry, Julita Przybylska, and Sommer Schneller.
Lesley Flanigan is an experimental electronic musician living in New York City. Inspired by the physicality of sound, she builds her own instruments using minimal electronics, microphones and speakers. Performing these instruments alongside traditional instrumentation that often includes her own voice, she creates a kind of physical electronic music that embraces both the transparency and residue of process, sculpting sound from a palette of noise and subtle imperfections.
R. Luke DuBois is a composer, artist, and performer who explores the temporal, verbal, and visual structures of cultural and personal ephemera. He holds a doctorate in music composition from Columbia University, and is the co-author of Jitter, a software suite for the real-time manipulation of matrix data. DuBois appears on nearly twenty-five albums both individually and as part of the avant-garde electronic group, The Freight Elevator Quartet.
The Exploded Ensemble, directed by Jesse Stiles and Lance LaDuke, is Carnegie Mellon University's hybrid music research wing, fusing traditional orchestral performance practice with experimental, electronic, and non-Western approaches to live music performance. In SNOOZEFEST, the musicians of Exploded Ensemble will perform an overnight concert of subtle and immersive sound-worlds for a sleeping audience. The sounds presented are carefully articulated so as to induce, enhance, and uplift the collective audience dreamscape.
Olivia Robinson's Inflatables & Soft Sculpture course focuses on the design, fabrication, and creative applications of sculptural and inflatable forms created from soft materials. For SNOOZEFEST, informed by a rich history of zeppelins, parade floats, and experimental architecture, the students in this course have applied techniques for turning flexible, flat materials into immersive, three-dimensional sleeping environments.
Join us for an artist lecture by SNOOZEFEST special guest, composer-performer Lesley Flanigan
8:00pm, Frank-Ratchye STUDIO for Creative Inquiry, CMU College of Fine Arts. Refreshments provided.
SNOOZEFEST is made possible by support from: the Pennsylvania Council on the Arts, the Frank-Ratchye STUDIO for Creative Inquiry, the Sylvia and David Steiner Speaker Series, and the CMU IDeATe Network.