December 05, 2017
Interdisciplinary Festival Experiments with Art, Music in Limestone Mine
By Julianne Mattera jmattera(through)cmu.edu
Media Inquiries
Julianne Mattera
Marketing & Communications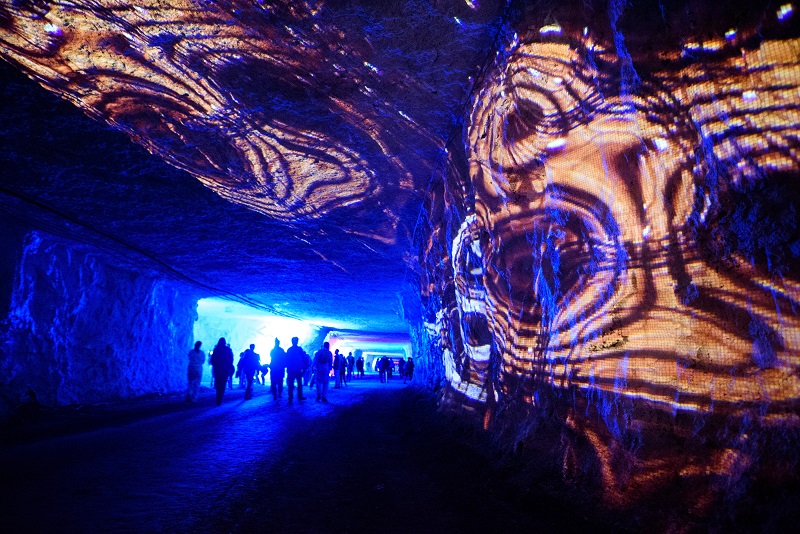 This article originally appeared on cmu.edu.
Carnegie Mellon University students have taken music and art to a new place — hundreds of feet below the earth's surface.
Students and faculty from CMU's College of Fine Arts, School of Computer Science, the BXA Intercollege Degree Programs and Integrative Design, Arts and Technology (IDeATe) Network put on a one-hour festival Saturday in a limestone mine in Brady's Bend, Armstrong County.
"SubSurface: Site-Specific Sight & Sound" appears to be the first arts festival in the region to be held in an underground limestone mine, according to Rich Pell, associate professor in CMU's School of Art and co-organizer of the event.
After buses took them deep within the mine, about 130 attendees explored a quarter-mile path transformed by swirling light projections, electronic music performances and art installations, including corn stalks, a person wearing a donkey mask in the restful pose of a TV-watching retiree and a clothesline strung with forgotten socks.
"My students were all approaching this from the perspective of the Anthropocene, which is this idea of the human influence over environment, climate and geology," said Pell, who came upon the mine after looking at old industrial sites for his class' final art critique. "So, I wanted to find a place where their work could speak to that, where you could be inside it."
The journey concluded with a concert in a long, cavernous room. The performance began as an instrumental set and gradually transitioned to electronic music, with purple and teal computer-controlled lighting that visualized sound moving through the room.
Jesse Stiles, co-organizer and an assistant professor at CMU's School of Music and IDeATe, said students took advantage of the mine's gigantic spaces and acoustics that amplify lower frequencies to play with music and art on a different scale than a typical venue.
Stiles said the project benefited from interdisciplinary collaborations between students with strengths in the arts and technology, including world-class performers from the School of Music, programmers from the School of Computer Science, and video designers, sculptors and performance artists from the School of Art.
"These are combinations of skill areas that are really unique to CMU where we have so many different areas of study that are so strong," Stiles said.
Daniel Bruce, owner of Brady's Bend Corporation, said his family purchased the mine from U.S. Steel in the 1960s, and it was mined for limestone up until October 2016. Now, the 50 million square foot space primarily serves as an underground storage facility for boats, cars and documents.
Bruce, who graduated from the Tepper School of Business in 1998 and whose parents are CMU alumni, said he enjoyed collaborating with his alma mater on the project. The mine is an adaptable space, he said, and it was great to see students manipulate it for their own use.
"This place just keeps on going through generational changes: From donkeys and pickaxes to LED lights," Bruce said following the performance. "It was better than I ever could have expected."