September 07, 2018
First FrIDeATe + Theresa Devine + Philips Design Challenge + Bose Challenge + MakerDate
Challenges Await
Today is our inaugural First FrIDeATe event! Coming up, Theresa Devine explores the medium of play, challenges for students from Philips and Bose, and a MakerDate.
First FrIDeATe Today!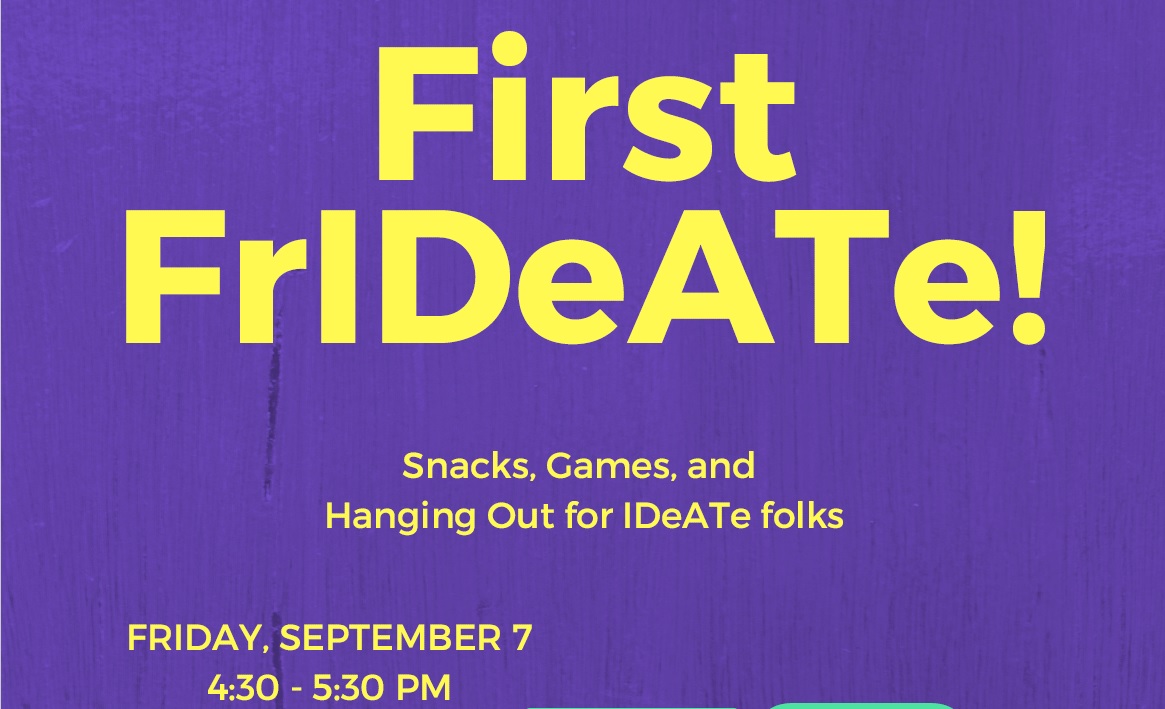 The first Friday of every month during fall and spring classes, we'll be having First FrIDeATe events. Our inaugural First FrIDeATe will be September 7th, 4:30 p.m. in the Fabrication Lab (Hunt Library A5). We'll have some tasty snacks from Mad Mex and a couple of games to celebrate the start of the academic year. If you're already part of IDeATe or just interested, stop by!
Beyond What You See: Exploring the Medium of Play
Theresa Devine, Associate Professor at Arizona State University, will be on campus next Thursday, September 13th as part of the CAS Speaker's Series. Prof Devine will be giving a talk in Gregg Hall (Porter 100) at 4:30 p.m. on her work exploring the relationship of games, play, and art to discover how they can be activated for social change. For more information, visit cmu.edu/cas.
Join the Philips Sleep Challenge
The Philips Sleep Challenge is a university wide competition at Carnegie Mellon University open to all students to generate innovative ideas for healthy sleep solutions. Top ideas will be awarded portions of a $6,000 prize. Learn more and sign up at philips2018.submittable.com.
Bose Sound/AR Challenge
Bose is hosting a sound-based augmented reality design challenge at Carnegie Mellon, with a kickoff event on October 18th. At the event, they'll ask students: "How might we use sound-based augmented reality to improve our lives?" Students will have access to hardware, the Bose API, and a huge network of industry mentors. They have 2 weeks to build something and communicate the business, creative, and engineering value behind their creations! Learn more and RSVP at realindustry.org.
MakerDate 2018
Assemble's MakerDate 2018 is next Friday, September 14th! MakerDate is a one-of-a-kind event, pairing skilled creators with people who want to learn something new. Attendees are able to bid on "dates" with craft makers, designers, technologists and innovators, who will work with the winning bidders to make a piece of art, a personalized piece of technology, or practice a new skill. To learn more and to buy tickets, visit assemblepgh.org.
PGH Lab Accepting Applications
PGH Lab connects local startup companies with the City of Pittsburgh, local authorities, and independent institutions to explore new ways to use technology and new services to make local government more efficient, transparent, sustainable, and inclusive. The program provides an opportunity for local startups to test their beta-stage products and services in a real-world environment for three-four months. For more information, visit pghlab.pittsburgh.gov.