March 04, 2020
Summer IDeATe Game Design Courses + Zine Cart in the Libraries
Summer 2020 IDeATe Game Design Courses
Sticking around Pittsburgh for the summer? Take an IDeATe course! We'll be offering two Game Design courses this summer:
53-353 Understanding Game Engines in Summer One is designed for non-programmers who wish to learn how to use modern game engines such as Unity (which will be the primary tool used for this course). Students will learn the fundamental components and features of game engines (such as objects, inputs, movement, interactions, physics, UI, artwork and animation, sound, and more) and the terminology and theory behind them. Students will attend lectures and participate in example exercises to illustrate these concepts, and put these concepts to practice in their assignment work. This course does not have prerequisites, but a basic understanding of common code concepts (variables, loops, conditional statements) is recommended.
53-110 Introduction to Game Prototyping in Summer Two teaches the fundamentals of designing, testing, and refining a game through lectures, workshops, individual assignments and team projects. We will examine the structure of games, strategies for generating game concepts, and methods to rapidly prototype and test designs. Students will individually modify existing games as design challenges, and will work in small teams to create and refine prototypes of new games. Topics covered will include: game mechanics and rule sets, level design, balancing game-play, the role of statistics and probability, player psychology and motivations, and prototyping and play-testing methods.
Summer registration begins March 18th.
Zine Cart!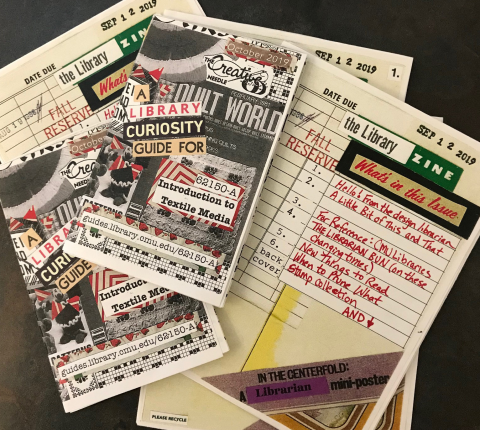 Librarian Jill Chisnell celebrated Fair Use/Fair Dealing Week with the Libraries' new Zine Cart. Described as a "workshop-on-wheels," the cart contains tools and materials that can be repurposed into a self-published booklet. Chisnell is hoping to host more zine-making workshops, so be on the lookout! You can read more about the Zine Cart at Librarie's blog.
Archaeology of the Moving Image Workshop
On Thursday, March 19th, the Libraries will offer Archaeology of the Moving Image. This workshop will feature hands-on experiments with a range of historical audiovisual technologies. Join us to animate your own 16mm film, produce a 19th-century visual toy, make a VHS collage, and learn about the wide and wacky world of moving image history. The workshop will be 6:00-8:00 pm in IDeATe Studio B (Hunt Library, first floor). Please register at cmu.libcal.com.
Share Your Buggy Story!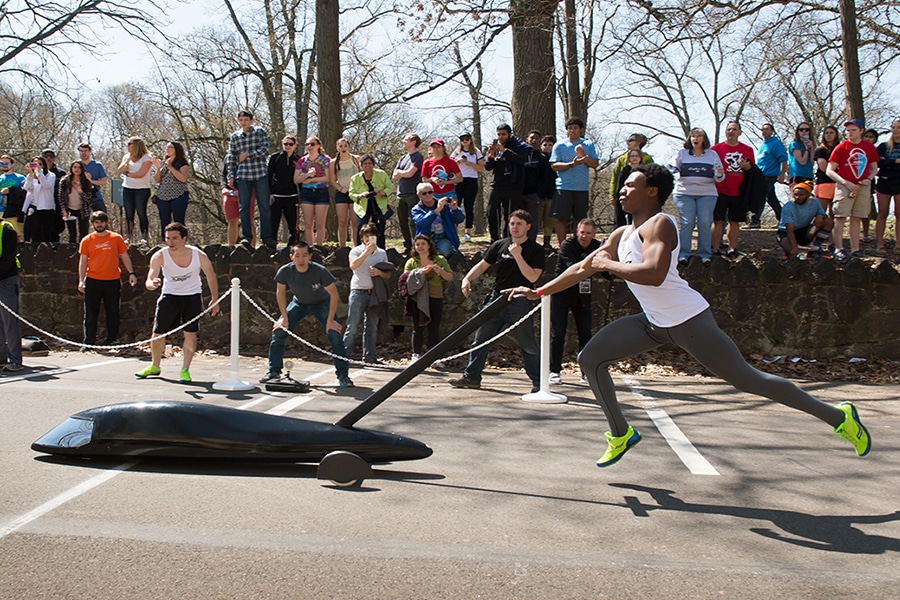 Buggy memories wanted! During Carnival, the Libraries will be showcasing the first exhibition to be held in the newly renovated gallery space on the first floor of Hunt Library. This exhibition, Nuts, Bolts and Wheels: 100 Years of Buggy, will celebrate the history of Buggy through the lens of the University's extensive archival collections surrounding the event.
In preparation for this exhibition, the University Archives are collecting first-hand stories about the Buggy experience. These stories will be added to the Archives and some will be featured during Carnival celebrations in exhibits, publications, social media, and other venues. If you have a favorite Buggy memory, share it here. 
Summer Undergraduate Research Internship
The Learning Research & Development Center at the University of Pittsburgh seeks summer undergraduate interns to promote broader participation in the learning sciences. The program runs June 1-July 31, 2020 and participants are expected to be in residence for the entire program. Housing and a stipend will be provided. A limited number of travel supplements are available. Learn more and apply by March 9, 2020 at lrdc.pitt.edu.
Undergraduate VR/AR Research at Georgia State
The Department of Computer Science and Creative Media Industries Institute at Georgia State University invite undergraduates to apply for summer research in Immersive Media Computing. Participants will work with faculty advisors, industry advisors, graduate student mentors, and other undergraduate students to carry out a research project in areas such as VR/AR, 360-degree video, image processing, HCI, and parallel computing. Stipends, travel allowances, and on-campus housing are provided. Learn more and apply at grid.cs.gsu.edu.