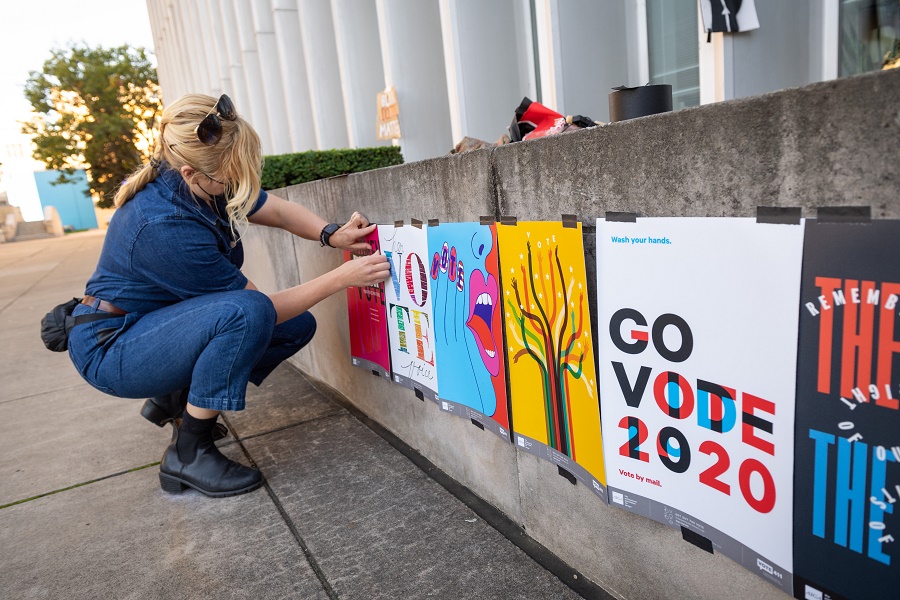 October 22, 2020
Niantic Talk + Get Out the Vote + Natural Dye Workshop
Get Out the Vote: Empowering the Women's Vote
Carnegie Mellon Libraries are excited to join the Miller Institute for Contemporary Art in celebrating "GET OUT THE VOTE: Empowering the Women's Vote." In partnership with AIGA and Vote411, this exhibit invites AIGA members to submit nonpartisan posters to commemorate women's voting rights. Don't miss the MIller ICA Gallery's Pittsburgh edition of this exhibit on-view until November 15th.
Pictured above: IDeATe Adjunct Professor and Libraries Designer Heidi Wiren Bartlett installs posters at the entrance of Hunt Library. The posters are available for free and can be downloaded, printed, and posted anywhere!
Niantic Talk
Please note: We've added CMU Authentication to make our Zoom call safe, so please make sure you login with your CMU Zoom credentials.
Join GCS and guest speakers Matt Ein and Laura Warner from Niantic for a virtual talk on 10/23 at 6 PM ET on Zoom (http://tinyurl.com/gcsniantic). Come to learn more about designing geolocation games, working in the games industry, and life at Niantic! If you join early enough, you may be placed in a waiting room, so please be sure to rejoin closer to the event start time. RSVP at our Facebook event here: https://www.facebook.com/events/1822213554596393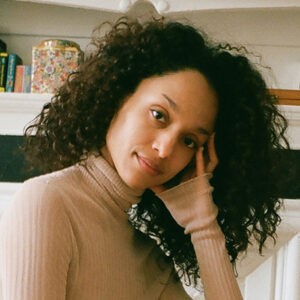 Steiner Lecture with Legacy Russell
This Friday, October 23 at 12:00 pm ET, the Carnegie Mellon School of Art and the Frank-Ratchye STUDIO for Creative Inquiry are collaborating to bring new-media arts curator and writer Legacy Russell for a public lecture via Zoom. Russell is the Associate Curator of Exhibitions at The Studio Museum in Harlem and the author of Glitch Feminism: A Manifesto. Please RSVP! More info is available at studioforcreativeinquiry.org.
Natural Dye Workshop
Learn how to use food and food waste as non-toxic natural dye materials for use with natural fibers. Dyeing with plant materials dates back more than 3,000 years. Come experience the wonder of using plants to color cloth!
Wear a mask and maintain physical distancing at this outdoor, in-person workshop. Hand sanitizer and sanitizing wipes will be provided.
RSVP at http://bit.ly/SoftTech-NaturalDye-Registration
Workshop is limited to 20 in-person participants. Register to request a spot. Questions? Contact Olivia at orobinso@andrew.cmu.edu.
Santa Monica Studio Info Sessions
Santa Monica Studio, the video game development team for PlayStation, will be holding two info sessions for students interested in careers in Programming and Design.
The programming info session will be Monday, October 26 at 4:30 pm ET/1:30 pm PT.
Webex: https://playstation.webex.com/playstation/j.php?MTID=m479a2fde1a6f3d50a18fb7178b5ec974
Meeting number (access code): 131 185 8843
Meeting password: Programming1026!
The design info session will be Monday, November 2 at 4:30 pm ET/1:30 pm PT.
Webex: https://playstation.webex.com/playstation/j.php?MTID=m48757684fca59a7e3c81a461ad4d43e6
Meeting number (access code): 131 764 4673
Meeting password: Design112!
Starcraft II/AI Study: Participants Needed!
Starcraft II players! Want to play Starcraft as part of a research study? If so, you are invited to participate in an experiment that will provide you with a chance to collaborate with an AI while playing Starcraft II. We will be running these experiments beginning the week of October 26.
The experiment will take no more than 60 minutes and you will be compensated with a $10 Amazon gift card for your participation.
Participants in the study will play Starcraft II guided by an AI designed to provide strategy suggestions to players. Participants will install Starcraft II and an additional software tool to guide players throughout the experiment. Participants will take pre- and post-experiment questionnaire and upload their game play data collected during the experiment on a cloud repository. The experiment will take place on the participants' local computer and requires a Windows operating system. (Recommended specs below.)
If you are interested in participating, please sign up at the following link: https://pennstate.qualtrics.com/jfe/form/SV_br75gQbkejSxY2h
If you have any questions, you can reach out to Nicolas Soria Zurita at nicosoria@psu.edu with the subject line "Starcraft Experiment Registration".
Recommended computer specs:
Operating System: Windows® 10 64-bit
Processor: Intel® Core™ i5 or AMD FX Series Processor or better
Graphics: NVIDIA® GeForce® GTX 650 or AMD Radeon™ HD 7790 or better
RAM: 4GB