April 16, 2021
Alum Continues Squirrel Drama + Summer Opportunities
Programmers Needed for ETC Summer Project
The Entertainment Technology Center is looking for Unity programmers for an internship opportunity this summer! ETC faculty are working on an advanced project for the Software Engineering Institute and their client, the details of which are confidential but will be shared upon hiring. The full-time, remote position will begin in May for approximately 12-15 weeks and will pay $15/hour.
Requirements:
Must be a current student or about to graduate

Must be a U.S. citizen

Work must be performed in the U.S.
Please contact Tom Corbett for more information.
IDeATe Summer Course: Seats Still Available!
IDeATe will be offering a section of 53-353 Understanding Game Engines during the Summer I session. Seats are still available for anyone interested in learning how to use Unity. The class will be remote and available in both synchronous and asynchronous formats.
If you have questions about the course, please contact the instructor, Tom Corbett.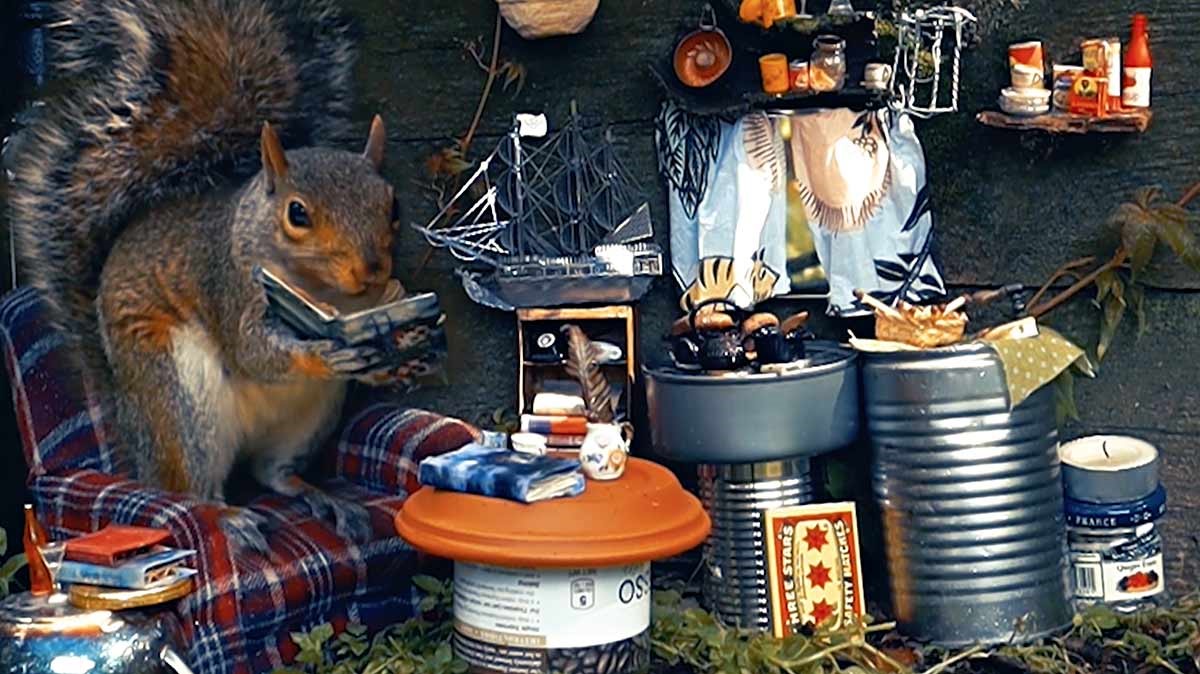 CMU/IDeATe Alum Continues Mastery of Squirrel Drama
Lumi Barron, alumna of both the School of Art and the IDeATe Lending Office, has just released the latest episode of Pippin and the Bead. The series was born during the early days of the pandemic for the course Experimental Capture. Barron combines her skills in animation, chromakey, and squirrel choreography to create a tale of supernatural quests and the furious desires of small creatures that seem compelled to cross the street at questionable times.
Open-Source Artist Lectures
Please join the STUDIO for four evenings of lecture presentations by our cohort of artists-in-residence! During Spring 2021, with support from the National Endowment for the Arts and the Clinic for Open-Source Arts, the STUDIO hosted a group of creative technologists who are developing Open-Source Software Toolkits for the Arts (#OSSTA). From April 26th through 29th, our guests will deliver a series of free online presentations about the tools they've been working to realize—and the creative practices that have motivated them to create these new tools. The evenings include presentations by CMU alumni Everest Pipkin (MFA '18), Char Stiles (BCSA '18), Luca Damasco (BCSA '17), and treat topics such as tools for casual creators, justice and equity in open source, high-performance arts computing, and sketching with creative code. All presentations will be streamed live on YouTube from 5-7pm EST. Attendees who register will also be able to participate interactively via Zoom. Registration is free.
You can read more about the OSSTA Spring Residency Program at studioforcreativeinquiry.org.
Serve the Moment Accepting Applications
Serve the Moment is looking for young adults (ages 18-29) to serve alongside community partners from June 21 - July 30 (6 weeks). Serve the Moment Corps Members will spend 8-10 hours/week elevating their professional skills and accelerating their personal growth through virtual and/or in-person service with trusted partners. Serve the Moment Corps Members will volunteer while learning and reflecting with their peers through trainings led by national leaders in the field. There will be an intentional focus on social inequities, systemic injustices (racial, food, and education), and addressing urgent needs through meaningful service rooted in Jewish values. Applicants are not required to identify as Jewish. Corps Members who complete all 6 weeks of service will be given a $750.00 stipend. Those who are interested can apply today or you may nominate a changemaker that you know!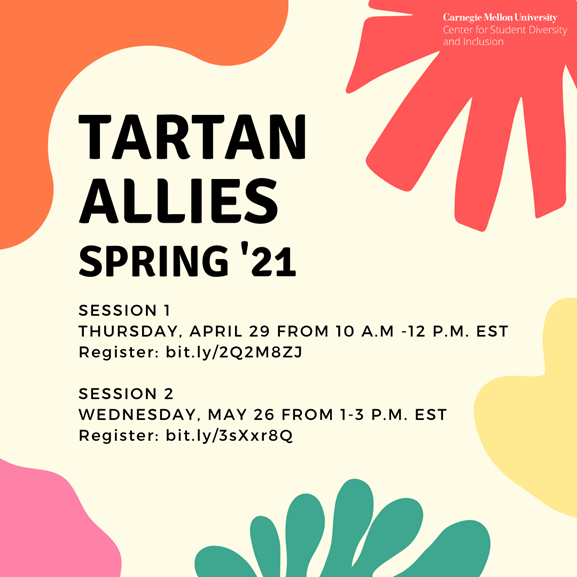 ICYMI: Tartan Allies Virtual Sessions
The Center for Student Diversity and Inclusion is hosting virtual Tartan Allies sessions this spring on April 29 and May 26. Tartan Allies is a series of sessions offered to CMU faculty, staff, and students to foster a network of people who are committed to working toward an affirming environment for all at CMU. In particular, the series focuses on being an ally to those in the LGBTQ+ community. Tartan Allies is made up of three progressive sessions, with participants free to choose the number they wish to complete. As our name suggests, being an ally is not a passive behavior. Good and effective allies listen, learn and act. Join us for Tartan Allies sessions if you are interested in becoming a part of this inclusive and supportive community. As always, please contact the Center with any questions.