March 26, 2021
IDeATe Alums Win at SXSW Pitch + TA and RA Opportunities
Teaching Assistant Opportunity: NHSGA
National High School Game Academy is now hiring TAs for this summer. This is a full-time, paid 10-week gig, running from mid-June to mid-August. The Game Academy is attended by approximately 80 high school students all passionately interested in learning about game development. While ETC faculty share the teaching load, the lion's share of what makes this program a great success are student TAs who create the curriculum and deliver a world-class experience to our students in classes covering Project Management, Game Design, Unity, 2D/3D Art, Animation, Rigging, Storyboarding, and Sound Design. You can reside anywhere in the US; the experience this year is entirely remote. If you have an interest in working with 80 of the smartest high school juniors you'll ever meet, please send an email to one of the following ETC faculty: Mo Mahler, Ricardo Washington, or Shirley Yee.
Research Assistant Opportunity: HyperSENSE Embodied Computations Lab
HyperSENSE: Embodied Computations Lab is looking for an undergraduate or graduate student for a paid research assistantship to develop a project that focuses on Intelligence in physical environment. The work could be also done as an independent study for credits as a research project. Required skills: Python, some experience in computer vision and/or Physical computing is a plus. Required hours per week: 4-6 Hours. If interested, please contact Prof. Dina El-Zanfaly.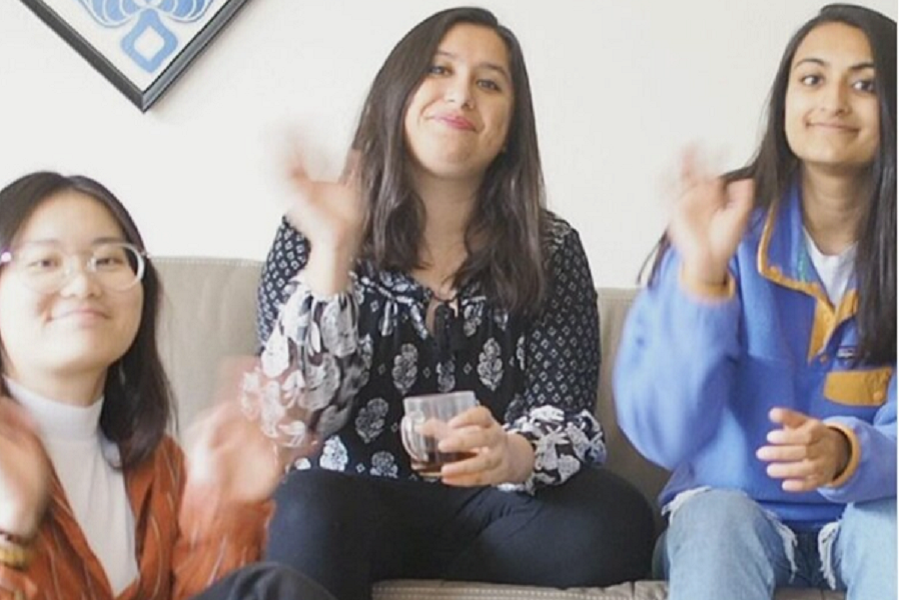 CMU/IDeATe Alums Win at SXSW Pitch
Refiberd, a tech start-up devoted to ending textile waste, was founded last year by three CMU alums. Sarika Bajaj, Refiberd's CEO, was an IDeATe student during her undergrad years and reached out to let us know that the company won Best Bootstrap Company at this year's SXSW Pitch! Congratulations to Sarika and her co-founders, Tushita Gupta and Mingyue Wang!
AI in Action: Inaugural Seminar
On Wednesday, March 31 at 2:00 pm ET, join the School of Computer Science in welcoming special guest Andrew W. Moore, Vice President of Engineering, General Manager of Cloud AI & Industry Solutions, Google Cloud. (Remote access via Zoom.) Dr. Moore will present the AI in Action Inaugural Seminar on "How we get to the point where AI is running the world."
Dr. Moore is a distinguished computer scientist with expertise in machine learning and robotics. He became the Head of Google Cloud Artificial Intelligence division in January 2019. Moore previously worked at Google from 2006 to 2014 and was the founding director of Google's Pittsburgh engineering office in 2006. He then spent a four-year hiatus at Carnegie Mellon University as the dean of the School of Computer Science. Andrew's research interests encompass the field of "big data" — applying statistical methods and mathematical formulas to massive quantities of information, ranging from web searches to astronomy to medical records, in order to identify patterns and extract meaning from that information. His past research has included improving the ability of robots and other automated systems to sense the world around them and respond appropriately. Andrew lives in Pittsburgh.
AI in Action: A Seminar Series for AI in Industry and Government, generously sponsored by Aptiv, is hosted by the SCS AI Undergraduate Degree (BSAI) program. This series explores the applications of AI in innovation and automation in real-world environments. Whether it be autonomous vehicles, healthcare, defense, government intelligence, or advertising, the use of AI is widespread, and this seminar series will feature the individuals who work at the intersection of AI and their respective fields.
BIPOC Literary Journal: Submissions Wanted!
CMU students Melina Castillo and Jamie Espinosa are working as Fellows with the Center for Student Diversity & Inclusion. They are currently putting together the first annual BIPOC (Black, Indigenous, and People of Color) Literary Journal. The journal's mission is to uplift and amplify BIPOC voices to work toward a change in CMU's PWI (predominantly white institution) culture and to build solidarity between our diverse communities. This community-based journal seeks to collect and share original, multimedia works by BIPOC students, faculty, and staff at CMU. You can submit a new or previously made work and anonymous submissions are accepted. The themes/content of the work are also entirely up to you and can be various media forms such as writing, drawings, comics, photography, film, etc. To submit, please upload works to their Google form or email it to mcastill@andrew.cmu.edu.
Submissions will be accepted until April 10 at 11:59 pm ET.
Bonus: They are looking for an art submission to the be the cover of the journal! If you would like your art to be considered for the cover, please note that in the Google form/email. The student whose art is selected will receive a wellness gift basket.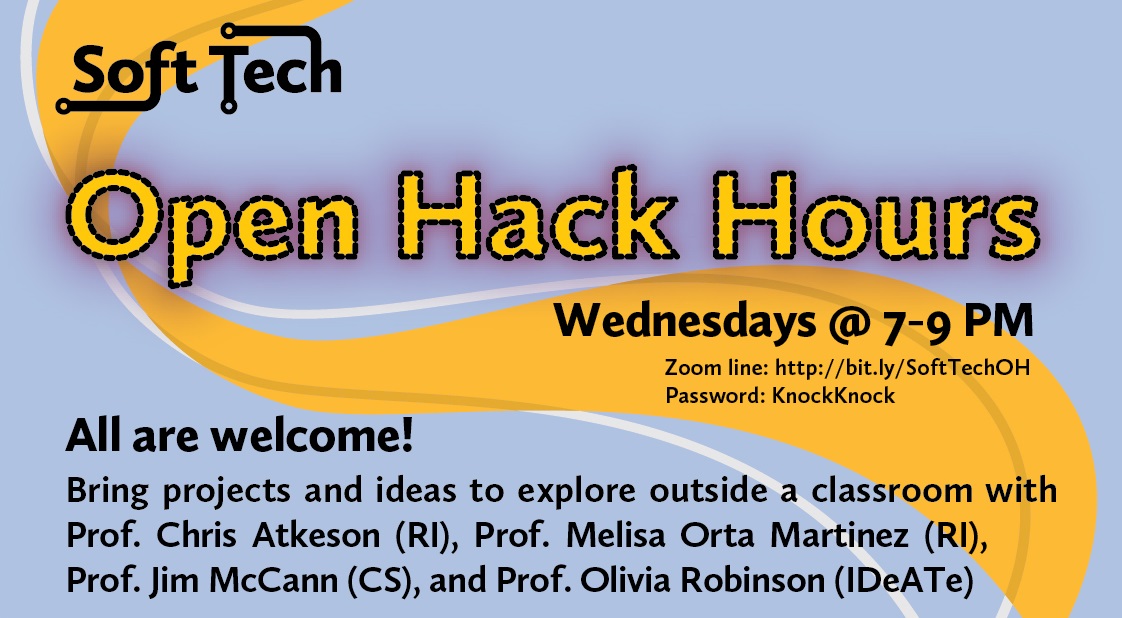 Open Hack Hours Return
Soft technologists, textile hackers, and inflatable sculptors! Open Hack Hours have returned for the spring semester. Do you have ideas or projects you want to do, but don't know how? Would you like to casually spend time with professors talking about ideas? Are you curious about robotics and/or textiles and/or soft robotics? Do you want to experiment with interesting materials and see what you might invent? Come to our Open Hack Hours! Everyone is welcome to join Prof. Chris Atkenson (RI), Prof. Melisa Orta-Martinez (RI), Prof. Jim McCann (CS), and Prof. Olivia Robinson (IDeATe) for Open Hack Hours on Wednesday evenings 7-9pm on Zoom. (Zoomline: http://bit.ly/SoftTechOH Password: KnockKnock)