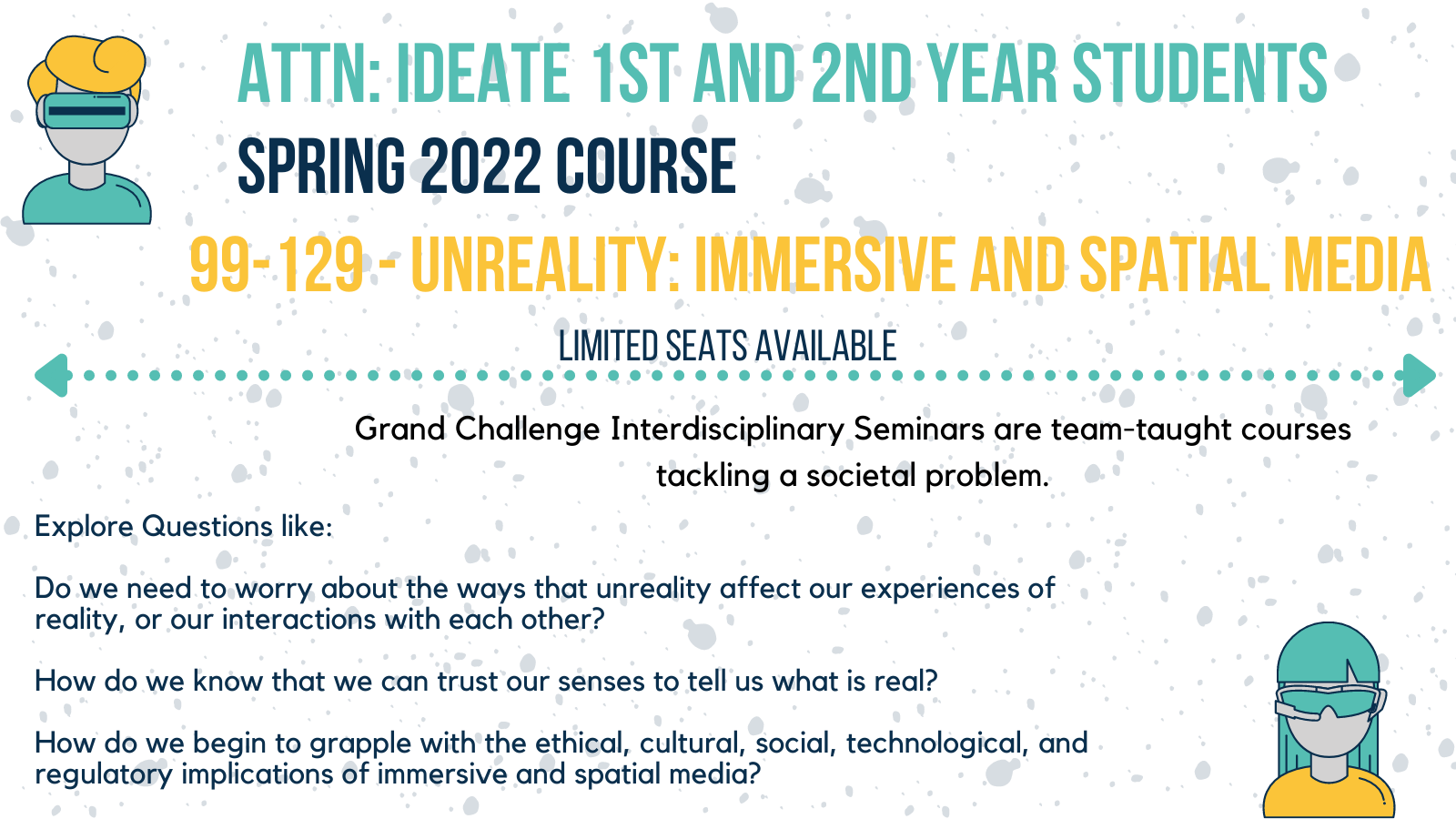 November 11, 2021
Info Session on Spring IDeATe Courses + Web Dev Weekend
Tomorrow! IDeATe Spring Course Info Session
Do you have any last-minute questions about IDeATe courses before registration begins next week? Join us tomorrow, November 12, 4:30-5:30, to chat on Zoom with IDeATe staff and faculty about your course options for next semester. This info session is open to all students so please invite a friend!
ScottyLabs Web Dev Weekend

ScottyLabs is hosting Web Dev Weekend on November 13th and 14th, and we would love for you to attend! Web Dev Weekend is an annual series of student-led workshops and talks that introduce you to web development with interesting, hands-on projects. It is a great place to pick up new skills that you'll be able to use in your projects, hackathons, and classes!
Feel free to attend one or all of the talks in Rashid Auditorium from 1-5pm on both days and get some FOOD and SWAG!
Git + GitHub
HTML + CSS
Javascript
Beautiful Soup
Flask
Deployment
Check out our website for the most updated talk lineups, times, and more!
Simon Initiative Distinguished Lecture: Justin Reich, PhD
The Simon Initiative and the University Lecture Series present Failure to Disrupt: Why Technology Alone Can't Transform Education with Justin Reich, PhD. Reich is the Direction of the Teaching Systems Lab at MIT and an educational technology researcher. In his lecture, Dr. Reich will argue that education technology has never sweepingly transformed schools, but a determined "tinkering" approach to continuous improvement can guide the way to better ecologies of education. Registration required!
Pittsburgh Racial Justice Summit: Call for Proposals
The 2022 Pittsburgh Racial Justice Summit is happening on January 21-22, 2022! Planning is underway and the summit's planning committee is soliciting session proposals to build out the program. The committee seeks to bring together activists, organizers, and educators with a depth and breadth of experience working toward racial justice at local, national, or global levels. They aim to provide sessions that critically investigate the centuries-long and global negative impact of white supremacy and colonization on communities of color and Indigenous peoples in the United States and worldwide.
Submissions are due November 19. Go here for more information.
ICYMI: Demosplash 2021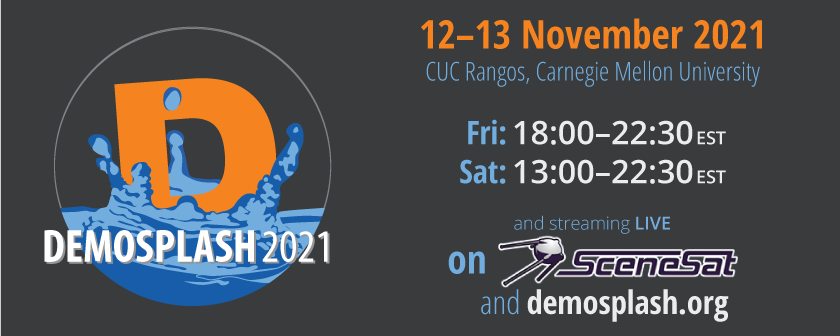 Are you interested in computer graphics, computer music, computer history or video games? Join the Computer Club at Demosplash, its 11th annual computer art and vintage computing festival, Friday, November 12, 6-10:30pm and Saturday, November 13, 1:00-10:30pm. The event will be in person in and around the Rangos Ballroom in the Cohon University Center and streaming online at demosplash.org.
Events feature:
demo submissions to our compos from around the world
demos for platforms old and new screened LIVE on original hardware
tech talks about running a faux-retro game on real retro hardware, the logistics of running a computer museum, and the truth about computer performance metrics
...and lots of chiptune and retro games!
Check the full event schedule for details on one of North America's largest computer graphics demoparties, FREE with your CMU ID! Learn more at demosplash.org.
ICYMI: Grow a Garden Exhibit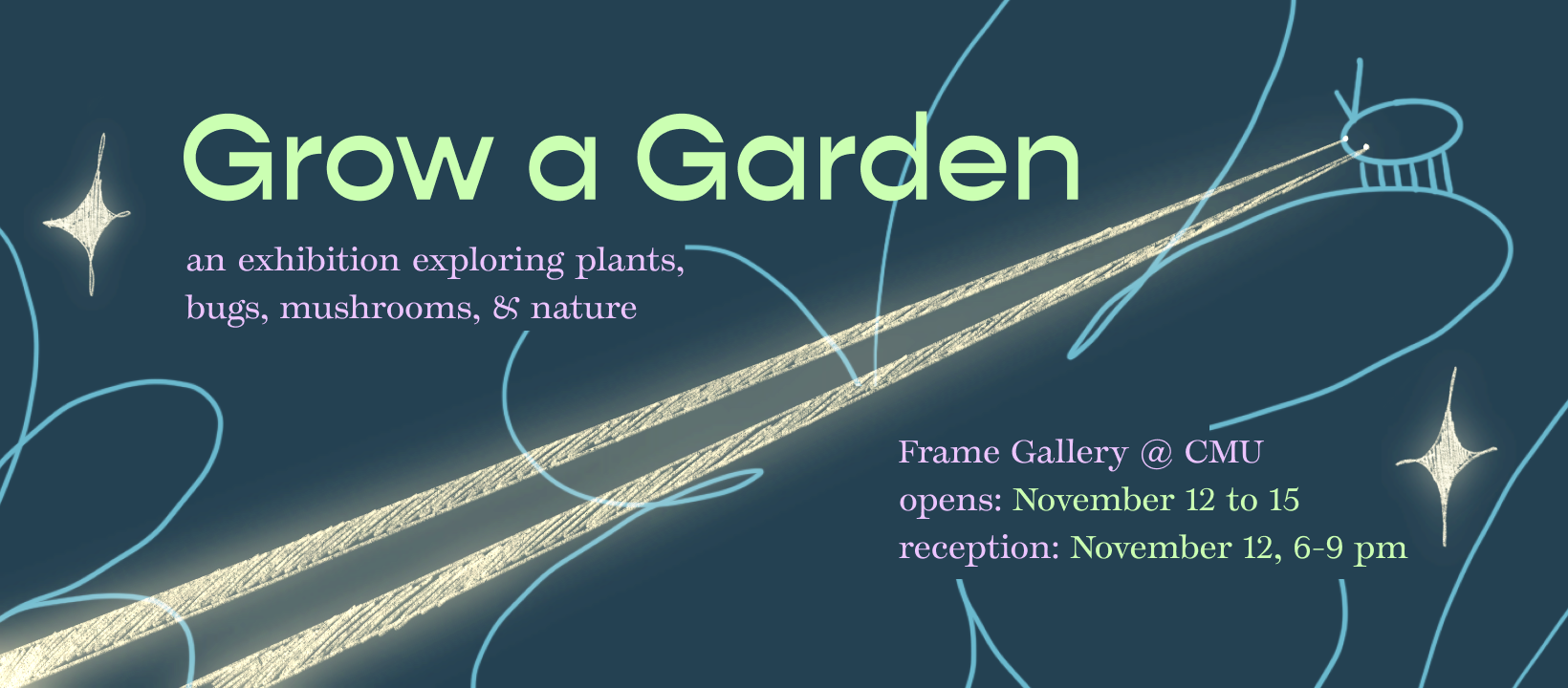 Grow a Garden is an exhibition celebrating plants, nature, and well-being, with reception happening November 12 from 6 to 9 pm. The exhibition is open to everyone, and we encourage guests to bring their own plants, enjoy some nature-themed snacks, and appreciate nature by relaxing with our plant prints, comics, paintings, videos, VR experiences, and more! Here is the link to our facebook event for those who may be interested [https://fb.me/e/1Pi2AShps]
ICYMI: A Glitch in the Matrix: A Panel Discussion with Filmmaker Rodney Ascher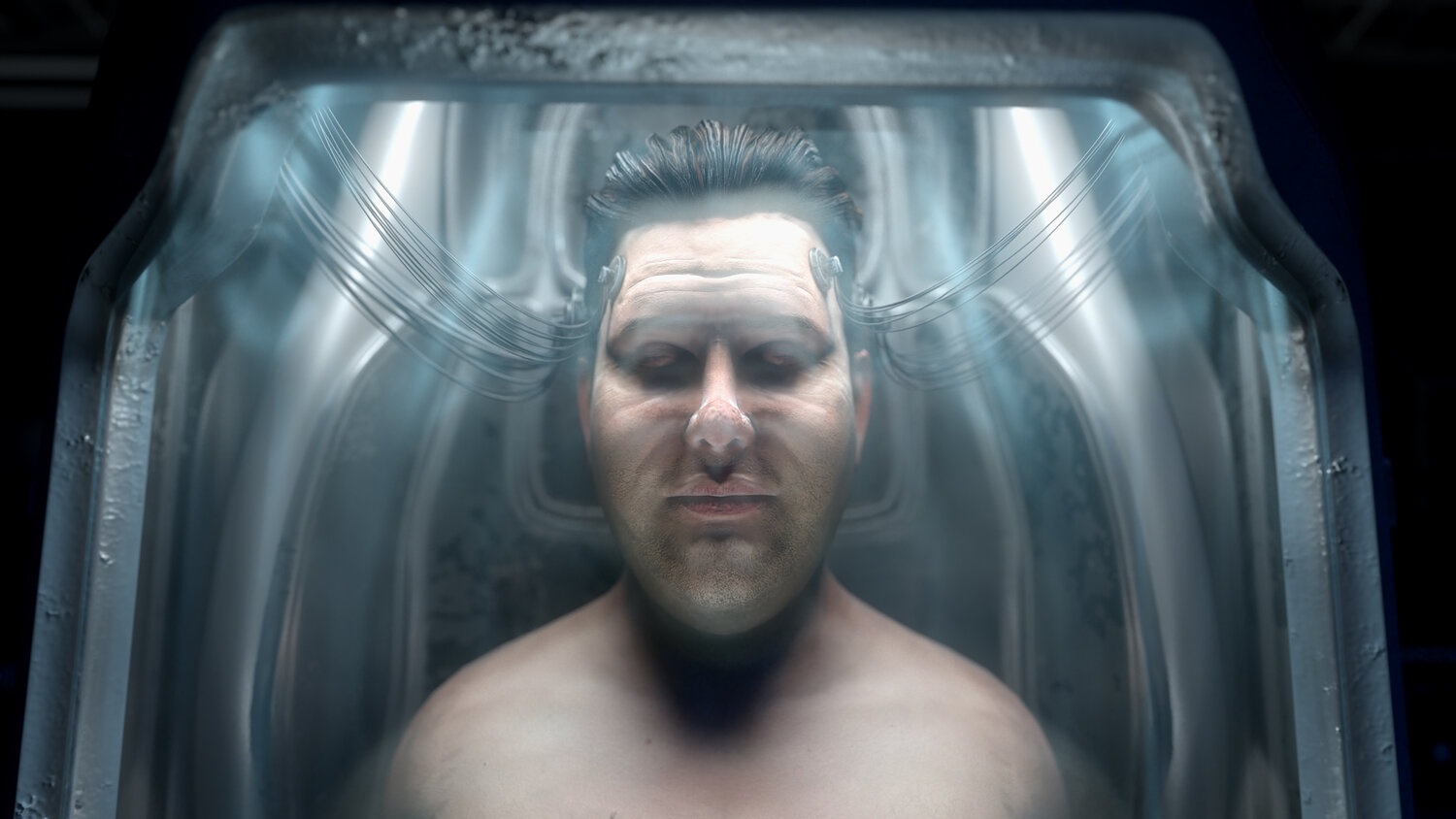 Presented by Carnegie Mellon University Libraries
Date: Thursday, November 18, 2021
Time: 5:00 PM – 6:15 PM
Format: Online Webinar
Official Event Page: https://cmu.libcal.com/calendar/events/VirtualRealityDay2021
Webinar Registration Page: https://cmu.is/virtualrealityday2021 
This virtual event is free and open to the public. Registration is required to attend the webinar.
For our inaugural Virtual Reality Day event, Carnegie Mellon University Libraries welcomes you to a panel discussion for a film unlike any other.
An official selection of the 2021 Sundance Film Festival, A Glitch in the Matrix is a groundbreaking remix documentary that explores simulation theory using in-depth interviews with experts and amateurs combined with cultural artifacts like popular video games and motion picture film clips to illustrate a mind-bending glimpse into the vortex of reality, and the University Libraries are honored to welcome the film's director Rodney Ascher as our featured guest.
This panel discussion brings together several individuals from multiple disciplines on campus to join the filmmaker in conversation, including: 
Emma Slayton, Data Curation, Visualization, and GIS Specialist,

 

Carnegie Mellon University Libraries.
Ralph Vituccio, Filmmaker & Teaching Professor for Carnegie Mellon University's Entertainment Technology Center,

 

IDeATe, and

 

Department of English. 
Kristen Kurland, Teaching Professor of Architecture, Information Systems, and Public Policy for Carnegie Mellon University's

 

Heinz College

 

and

 

School of Architecture. 
About the Filmmaker
Rodney Ascher is a filmmaker known for creating documentaries that explore the subjective experience, freely appropriating the vocabularies of genre, experimental, and found-footage films along the way. His feature debut Room 237 was included on Owen Gleiberman's top ten film list for 2012 in Entertainment Weekly and his follow-up The Nightmare was called "The Scariest Movie of the Decade" by BirthMoviesDeath.com. A Glitch in the Matrix is his most ambitious film to date and sold out both midnight screenings for its debut at the 2021 Sundance Film Festival. Learn more about Rodney and his films at www.rodneyascher.com.
About Virtual Reality Day
Virtual Reality Day is a series of VR/AR events organized worldwide to help virtual and augmented reality become more mainstream. Any individual, company or organization can host a free public VR/AR event and become part of the Virtual Reality Day phenomenon. This is a completely voluntary and grassroots effort. It's about bringing the energy and interests of the greater community together, and focusing that energy for the benefit of everyone on one special day. Find out more at www.virtualrealityday.org.