December 07, 2022
Effervescent Shadow Bazaar!
Effervescent Shadow Bazaar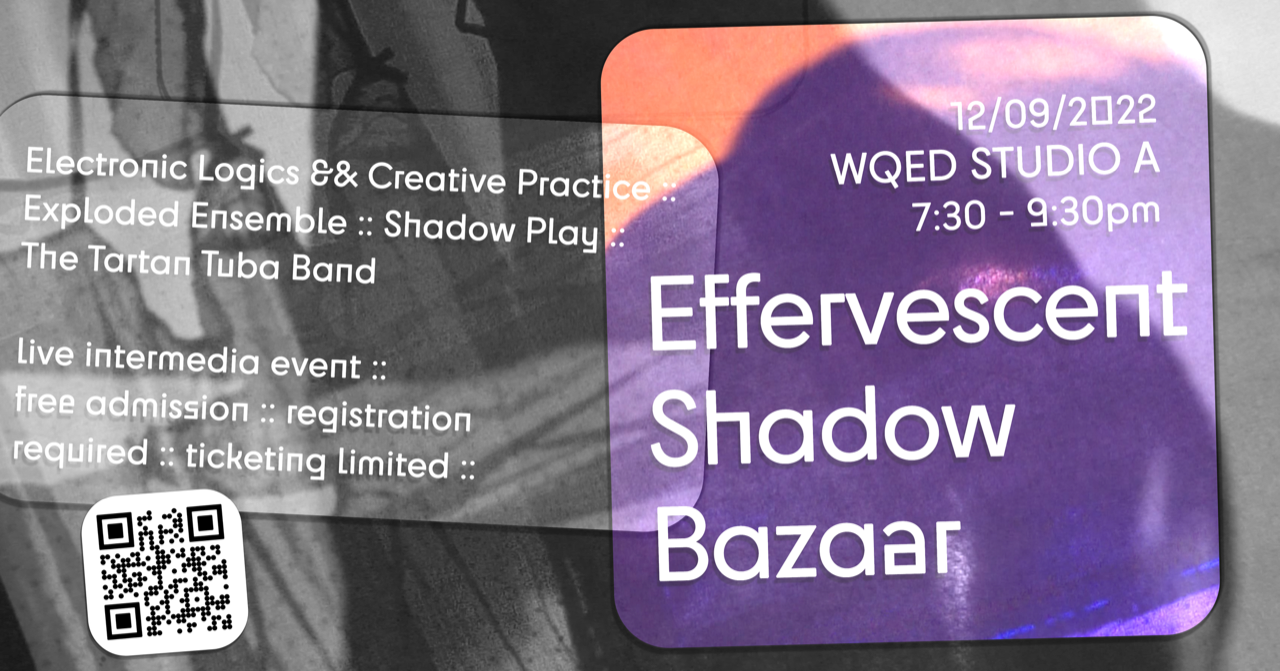 Effervescent Shadow Bazaar is an evening-length immersive art and music experience combining designs of ambisonic 3D soundscapes, shadow and light animation, and electronic interactive devices.
This 2-hour event will be presented in three sections interweaving explorable interactive artworks with live performances:

7:30-8:00 PM - Explorable Art
8:00-8:45 PM - Live Performance
8:45-9:30 PM - More Explorable Art

Participating Classes:
Shadow Play (School of Art/IDeATe)
Electronic Logics & Creative Practice (IDeATe)
Exploded Ensemble (School of Music/IDeATe)
Tartan Tuba Band (School of Music)

Register for free entry!
Experimental Capture Class Exhibition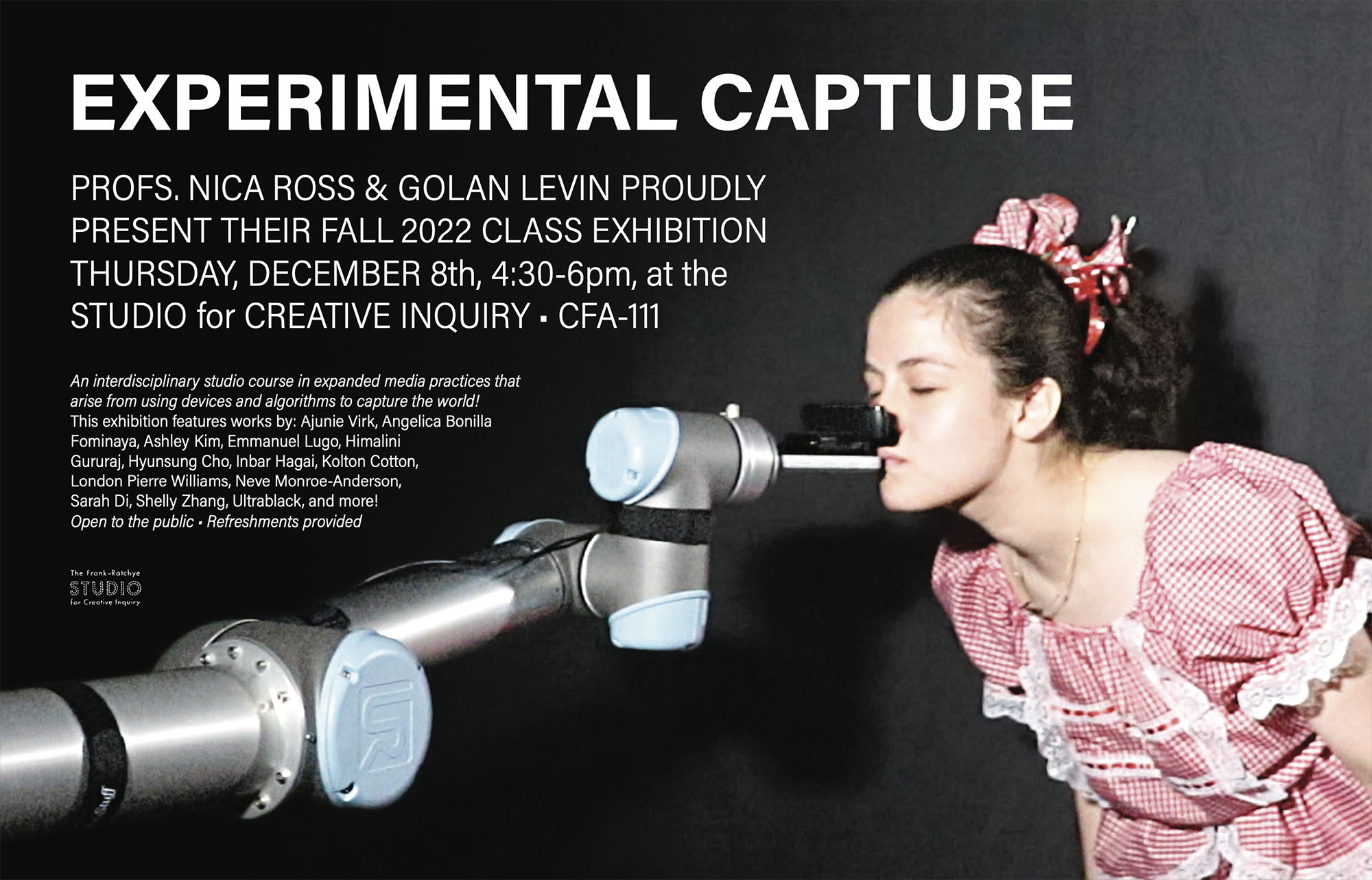 Thursday, December 8th from 4:30-6pm in the Frank-Ratchye STUDIO for Creative Inquiry (CFA-111)
Professors Golan Levin (Art) and Nica Ross (Drama) are proud to present an exhibition of projects from "Experimental Capture" (60-461/54-661), an interdisciplinary IDeATe studio course in expanded media practices that arise from using devices and algorithms to capture the world!
This exhibition features works by: Ajunie Virk, Angelica Bonilla Fominaya, Ashley Kim, Emmanuel Lugo, Himalini Gururaj, Hyunsung Cho, Inbar Hagai, Kolton Cotton, London Pierre Williams, Neve Monroe-Anderson, Sarah Di, Shelly Zhang, Ultrablack, and more!

Open to the public; refreshments provided. Image: A.B. Fominaya
School of Art Open Studios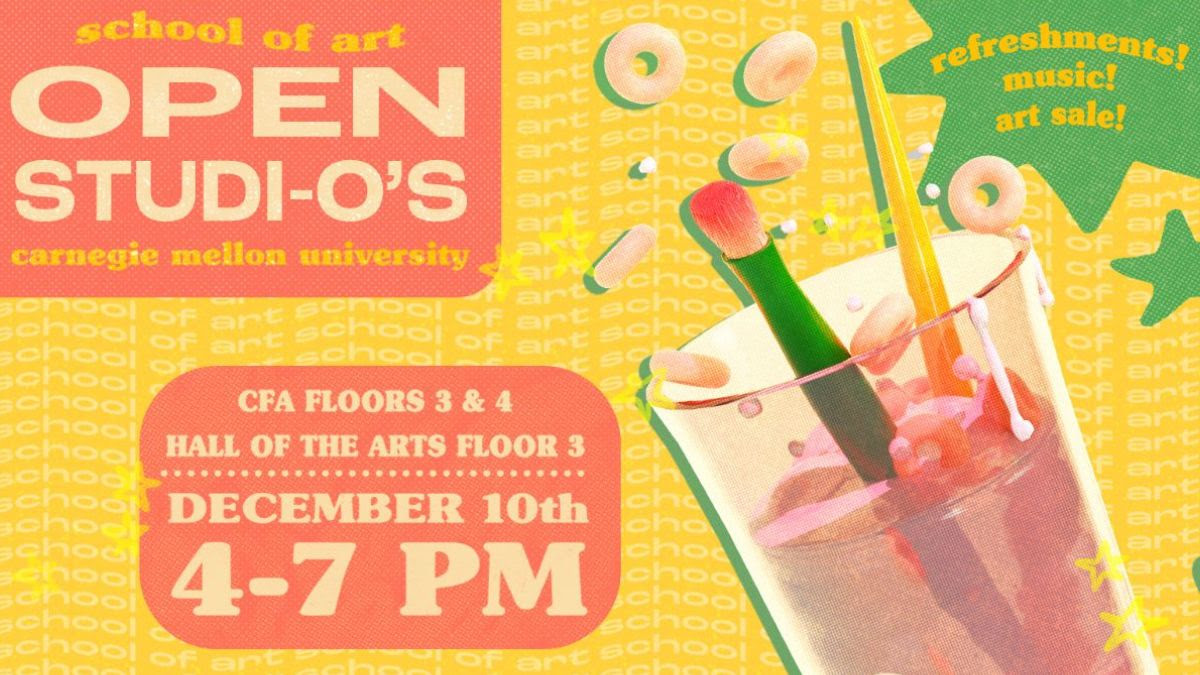 Join the School of Art for our annual Open Studios, which takes place this Saturday, December 10 from 4:00 to 7:00 PM! Junior and senior studios in the College of Fine Arts Building (3rd and 4th floors) and MFA studios in the Hall of the Arts (3rd floor) will be open to the public. The event also features an art sale, video screenings, 2 DJs, a dance party, and more! Free food will be available in the Peace Garden located between the College of Fine Arts and the Hall of the Arts near Frew Street.
Electronic Music Studio Concert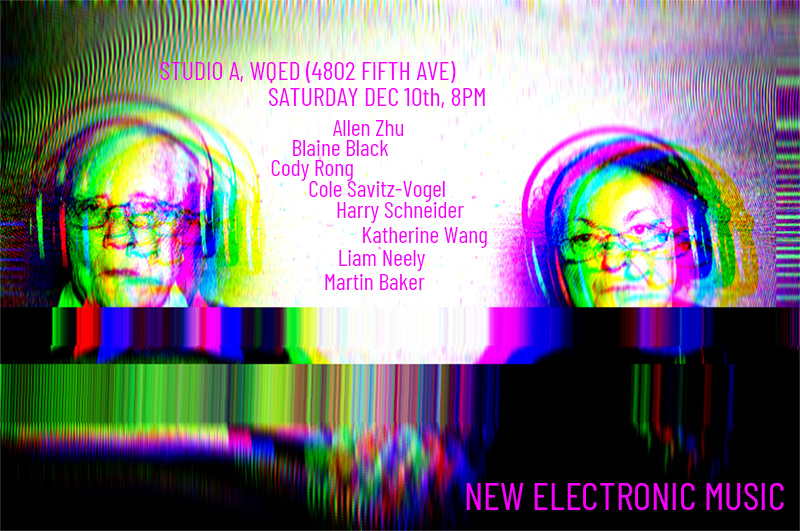 Saturday, December 10, 8pm
WQED Studio A
Join CMU's Electronic Music majors for an evening of new electronic studio compositions.

Featuring new work by:
Martin Baker
Blaine Black
Liam Neely
Cody Rong
Cole Savitz-Vogel
Harry Schneider
Kathrine Wang
Allen Zhu

Studio Faculty
Freida Abtan
Jesse Stiles