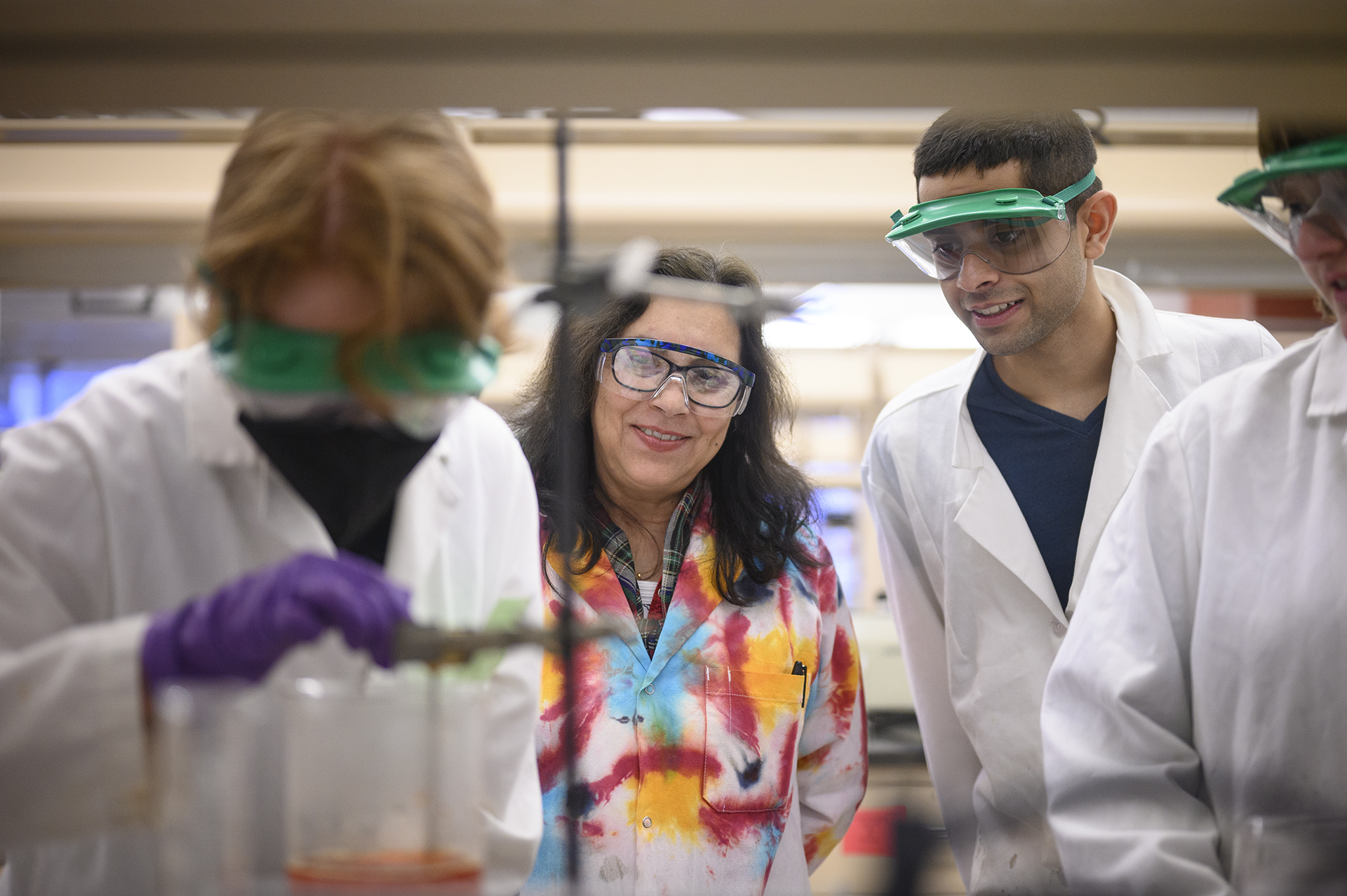 November 30, 2022
With Culture of Color Course, Students Dip into Dye
By Heidi Opdyke opdyke(through)andrew.cmu.edu
Media Inquiries
Jocelyn Duffy
Associate Dean for Marketing and Communication, MCS
This story was originally published on cmu.edu/mcs.
Textiles and chemistry are woven together in a new course at Carnegie Mellon University.
Gloria Silva, an associate professor of chemistry, and Olivia Robinson, a teaching professor for the Entertainment Technology Center, co-teach The Culture of Color: Dyes, Chemistry and Sustainability. Housed within the Department of Chemistry the course is also offered through Carnegie Mellon's Integrative Design, Arts and Technology (IDeATe) network.
For Silva, a core component of what she wants students to take away from the experience is to understand how chemistry influences their lives as well as understand techniques to isolate natural pigment for dyes and how to produce dyes synthetically.
"We try for students to become aware of what happens outside of their major, if it isn't chemistry," said Silva who also teaches courses related to chemistry in food and cosmetics. "Or if it is, then we link then link that knowledge of what they see every day."
Everyone has a relationship with some sort of textiles, added Robinson, who manages IDeATe's Soft Technologies studio, teaches other textile courses and is a multimedia artist. And understanding the historical, societal and sustainability contexts related to textile dyeing can further deepen one's engagement and creativity, she said.
"Dyeing textiles has a long history of rich cultural traditions and technical innovations," Robinson said. "While trying to synthesize quinine in 1856, a British chemist named William Perkins created the first synthetic dye. It opened a world of possibilities for both chemists and cloth dyers."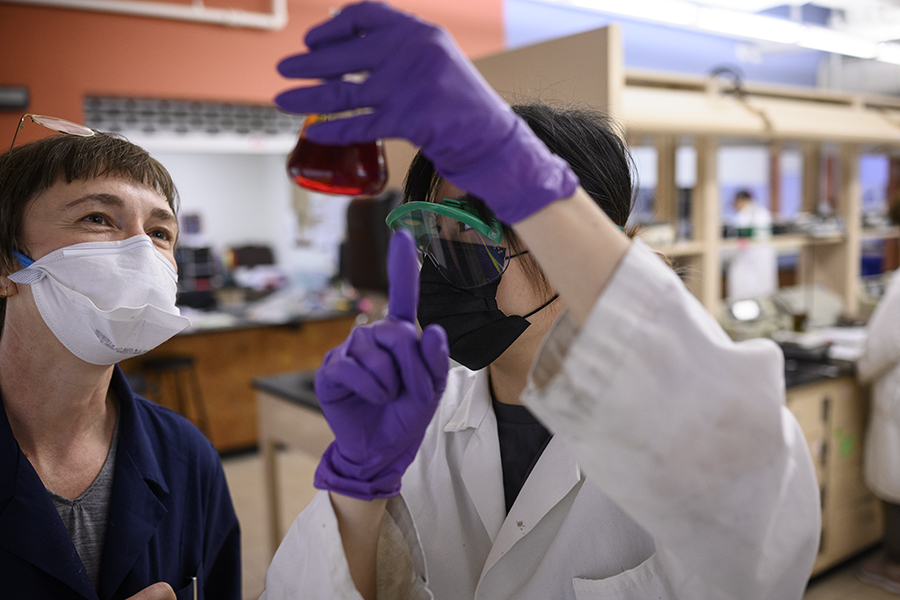 Sarah Xi, a senior in Carnegie Mellon University's School of Design, shows Olivia Robinson, a teaching professor for the Entertainment Technology Center, the precipitated synthetic dye that she prepared.
Antonia Abedrapo, a fourth-year study abroad student, said that the course was very cool. At her home institution of Pontificia Universidad Católica de Chile, Abedrapo studies pharmacy and was looking for chemistry electives at Carnegie Mellon.
"I learned it's much more complicated with the process for dyeing," she said. Different techniques are used to dye plant-based fibers such as cotton compared to silk or wool, which are both protein fibers.
For a final project that requires the students to dye cloth with a pattern based on something from their lives. Abedrapo said she plans to look Chile's Independence Day-like celebration on Sept. 18 for inspiration.
"It's like the Fourth of July. There's color and fun," she said.
Erin Smith, a junior in chemistry said that she grew up sewing with her mother and thought the course would be a fun elective. She said that creating dye from natural materials was an interesting process.
"Dyeing with sage created these pretty yellow-green colors. It's been fun to see a more creative side to chemistry," Smith said. Having her studies interrupted by the COVID-19 pandemic, she said that time in the lab with courses like this has been valuable. "It's cool to have physical items that you can touch and do hands-on work."
Students applied dyes to textiles in via methods such as immersion dyeing, resist and folding techniques and printing.
Depending on the day's assignment some classes took place in the IDeATe collaborative making facility in the basement of Hunt Library or at the state-of-the-art chemistry facility at Doherty Hall.
The IDeATe network connects diverse strengths across Carnegie Mellon to advance education, research and creative practice in domains that merge technologies and arts expertise. Courses are hands-on collaborative learning and structured to combine students from different disciplines. Silva said that the flexibility of using both spaces exposes students in different disciplines to new ideas.
 
"If someone from chemistry has never been to the IDeATe space, it's there for them to create things, that's fantastic," she said. "We do a lot of experiments there and we've taken them to IDeATe for three or four times."
Robinson said that Carnegie Mellon has a variety of courses related to textiles and fabrics, not just those that are part of the IDeATe program from costume courses in the College of Fine Arts to an algorithmic textiles course in the School of Computer Science.
Every so often ideas percolating from a course take students in unexpected directions, she added. For example, Sarkia Bajaj, a Carnegie Mellon alumna in engineering who previously took courses from Robinson, went on to found Refiberd, a textile recycling startup selected to participate in the National Science Foundation Innovation Corps program.
"There is power in creative practice and being more well-rounded human beings through courses such as these," Robinson said.