September 03, 2020
Laser Cutter Info + FrIDeATe Dates
IDeATe Laser Cutter Info
While the IDeATe laser cutters will remain closed to general community use this fall, IDeATe has partnered with TechSpark to provide laser cutter access to interested IDeATe students. 24-210 Special Topics: Maker Series: Inventive Projects is a variable-unit pass/fail mini course offered in both Mini-1 and Mini-2. Students who enroll in 24-210 for one (1) unit are entitled to one hour per week of reserved laser cutter time at the TechSpark facilities, as well as unlimited walk-in time as capacity allows.
Students who want or need laser cutter access during the first half of the semester should sign up for one unit of 24-210 A1 before the Mini-1 Add deadline this Friday, 4 September. If adding the additional unit would cause financial or administrative hardship, please reach out to IDeATe at help@ideate.cmu.edu and we will look into potential alternative arrangements.
IDeATe instructors and TAs who need to cut one-off projects should continue to make appointments with IDeATe via help@ideate.cmu.edu.
For the latest updates on IDeATe operations during the Fall 2020 hybrid semester, stop by resources.ideate.cmu.edu.

Fall 2020 FrIDeATe Dates + Soft Technologies Info Session
FrIDeATes will shift to an online format for this semester. We will be bringing you some fun and informal programming with the aim of retaining and creating connections between IDeATe students, faculty, and staff. The dates for fall will be September 18, October 9, November 13, and December 11.
For September 18, we will be holding an info session at 4 pm for the new IDeATe area in Soft Technologies. FrIDeATes are open to all so please be sure to share this info with your fellow students who may be interested in this minor! If you are unable to make FrIDeATe, we will be holding an additional info session on September 23. Zoom details for both will be posted on our Events page.
Until further notice, all FrIDeATes will be BYOBurritos.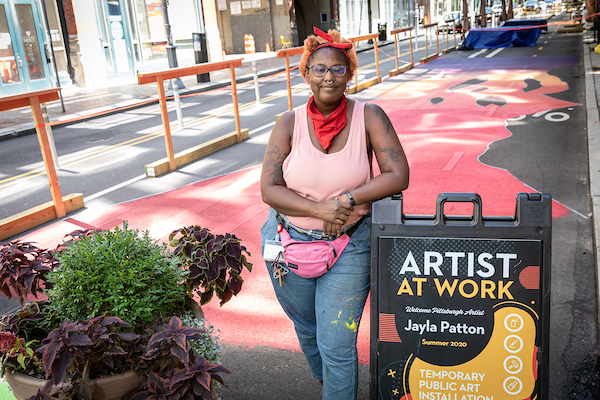 Image courtesy of Pittsburgh Downtown Partnership
IDeATe Instructor Beautifies Downtown Pittsburgh
If you've taken the IDeATe courses 62-478 digiTOOL or 99-359 IDeATe: 3D Modeling and 3D Printing in the last year or so, then you've gotten to know Jayla Patton and the enthusiasm and creative energy that she brings to learning. Patton was recently commissioned to create a street mural on Penn Avenue in Downtown Pittsburgh as part of an initiative from the Pittsburgh Downtown Partnership. Take a moment to read more about the project on nextpittsburgh.com and if you're in Pittsburgh, stop by to see the mural on display through November 2.
Call for Artists: Children's Museum Tough Art Residency - Applications Due September 6!
Children's Museum of Pittsburgh is looking for artists to create virtual content that inspires our audience to engage in artistic experiences outside of the Museum's walls.
The Children's Museum's Tough Art Residency Program has offered creative, hands-on learning opportunities for our visitors since 2007. Unfortunately, the Museum is currently closed due to the COVID-19 pandemic, and the 2020 in-person residency was cancelled. We were inspired to find a way engage with our audience and connect them with artists during this unprecedented closure.
This has prompted a call-for-artists who are interested in making their work accessible to the Museum's virtual audience. The challenge is for artists to create an art-making activity which relates to their artwork or process and would inspire a do-it yourself project for children and families to create at home.
Residency Goals:
Create an art-making project for participants that relates to or is inspired by the artist's work.
Work collaboratively with Children's Museum staff to create and develop an engaging art-making activity that compliments the Museum's mission to inspire joy, creativity and curiosity.
Give artists a platform on Children's Museum's website and social media channels to share their work and reach a potentially new audience.
Logistics:
Applications due September 6, 2020.
The residency offers a $200 artist stipend, awarded to 5 artists.
Artists will work online with Museum staff from late-September through October 2020 to produce a final product that will be available through the Museum's web presence (websites, social media platforms, etc.) as a digital download/link beginning November 2020.
Learn more and apply at pittsburghkidsdesign.org.
Internship Opportunity 3D Printing Chocolate
Cocoa Press is creating a 3D chocolate printer for commercial confectioneries. They are looking for mechanical/electrical engineering co-op or intern students with good CAD skills, 3D printing/prototyping experience, and machine code/coding experience. For more information or to apply, send your resume, a couple paragraphs about yourself, and portfolio (or photos/description of a recent school or independent project) to brittany@cocoapress.com. Big thanks to recent IDeATe alum Amy for the tip!